How to Package Christmas Cookies
If you have loved ones who live in other states, then you know how important the mail is. Whether you've had a bad experience sending cookies through the mail in the past or this is your first year doing so, learn How to Package Christmas Cookies the right way with our handy dandy guide.
How to Package Christmas Cookies
(To Send to Loved Ones)
1. Getting Started: Choosing Which Cookies to Make
Not all cookies are made to be shipped. Some might melt; some might break; some might spoil. Here is what you should look for in a cookie (and what to avoid!):

Types of cookies that ship well:
Sturdy: The sturdier a cookie is, the less chance it has of crumbling if it gets tossed around.
Examples: Sugar cookies, bar cookies, gingersnaps, shortbread cookies, fruit and nut cookies, chocolate chip cookies*, icebox cookies, and biscotti.
Alternative idea: Cookie in a jar. Instead of shipping a finished cookie, send the basics and have the recipient finish it off. Put the cookie ingredients in a jar, add a bow, and don't forget to include the recipe!
Types of cookies to avoid:
Anything that needs to be refrigerated, including cookies with custard or pudding, and cheesecakes.
Refrain from frosting cookies. Either leave it off, send along a carton of frosting, or include a frosting recipe.
Delicate desserts, such as lace cookies and madeleines.
When it comes to sugar cookies, stick to shapes with rounded edges, not points. Pointy edges are more likely to break off.
*Be mindful of the climate. If you're shipping from one cold place to another, you shouldn't have any problems. If you're shipping to/from a warm place, avoid sending cookies with chocolate, since it may melt.
Christmas Cookie Recipes Approved for Shipping: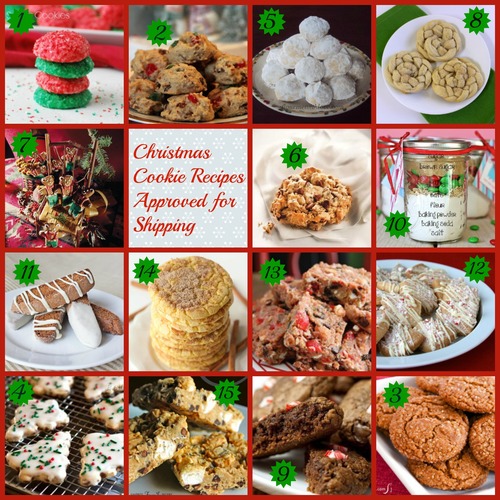 2. Packaging
After choosing which type of cookie (or cookies) you are going to make, it's important to pack them correctly so they're safe in transit. You don't want all of your hard work to go to waste! Here are the basics as well as some fun tips for a pretty presentation.

The Basics:
Bake the cookies the day you're going to send them to ensure freshness.
Cookies should be completely cool before packing them up.
Pack cookies snugly (but not too tight) in an airtight container.
Don't put crisp cookies and soft cookies in the same container because they will change textures - crisp cookies will soften and soft cookies will harden.
If you are sending chewy cookies, you can add a piece of bread to help keep them soft during their travels.
Keep strong flavored cookies (such as gingersnaps) separate from mild flavored cookies (such as sugar cookies) to avoid transfer of flavors.
Place the heaviest cookies on the bottom and the lightest cookies on top.
Go Above and Beyond:
Put different types of cookies in different compartments of the same cookie tin for a pretty presentation (Don't mix crispy and soft cookies, though!)
Place cookies in a pretty box.
Wrap cookies in cellophane.
Wrapping Ideas:

Mason jars (just make sure the cookies are packed snugly so they don't jiggle around).
CD envelope
Egg cartons
Place cookies in another "gift," such as a loaf pan, muffin tin, mug, cookie jar, or baking mold.

Include a note saying what types of cookies are in the package.
3. Shipping
Once your cookies are packed, it's time to ship them off. Here are some helpful tips on shipping cookies.
Always use more than one box. Put the cookies in one box, and put that box inside a larger box (a few inches larger on each side). Fill with padding, such as bubble wrap, packaging peanuts, or crumpled newspaper. Shake the box to make sure the inside box is snug. If you hear jiggling, add more padding.
Mark the box as fragile.
Ship early in the week (Monday, Tuesday, or Wednesday). You don't want your cookies sitting at the post office on Sunday.
Do overnight shipping if you want them to arrive the very next day.
Tell your loved ones when they can expect the cookies so they can keep an eye out for them. If you want the cookies to be a surprise, give them a call the day after they should have gotten there to make sure they arrived safe and sound.
Your Recently Viewed Recipes