Creamy Potato and Broccoli-Cheddar Soup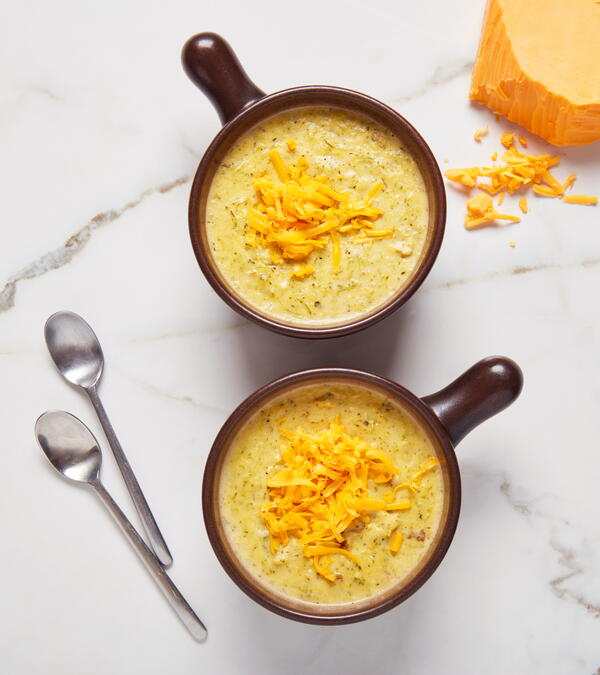 Creamy Potato and Broccoli-Cheddar Soup
Rich and cheesy Cheddar meets broccoli and makes the perfect combination in this recipe. This soup is my favorite of all time. It's as good freshly made for a weeknight dinner as it is the next day for leftovers. This is the dish I make whenever I want something simple that's not too heavy yet still filling. Top it off with some more cheese and enjoy with a side of buttered, freshly baked bread.
 
Makes4 servings
Ingredients
2 tablespoons (28 g) salted butter
1 yellow onion, diced
4 large potatoes, diced
2 cloves garlic, chopped
2

1

/

2

cups (600 ml) water
2 cups (480 ml) heavy cream
18 ounces (510 g) frozen broccoli florets
2 vegetable bouillon cubes
2

1

/

2

cups (280 g) freshly shredded Cheddar cheese, divided
Salt, to taste
White pepper, to taste
INSTRUCTIONS
Heat a large pot over medium heat. Add the butter, onion and potatoes, and cook, stirring, for about 3 minutes. Add the garlic, and cook for another minute.
 

Increase the heat to high. Add the water and heavy cream to the pot, and bring to a boil.
 

Add the broccoli and bouillon cubes, reduce the heat back to medium and partially cover the pot with a lid. Simmer until the broccoli and potatoes are soft, about 5 minutes, stirring occasionally.
 

Remove the pot from the heat, and use a handheld blender to blend the soup until smooth, about 1 minute. (You can also use a stationary blender; just make sure it's heat resistant.)
 

Return the pot to the stove over medium heat, and add 2 cups (226 g) of the Cheddar cheese. Stir until the cheese is melted, about 1 minute. Season with salt and white pepper to taste.
 

Divide the soup into bowls, and top it off with the remaining Cheddar Cheese for garnish.
 
Note:
If you like a little texture, toast some pine nuts in a pan over low heat until golden brown, about 5 minutes, and use for garnish together with the Cheddar cheese, or add some extra broccoli florets to the soup after mixing.
Your Recently Viewed Recipes