Creamy Citrus Shrimp Soup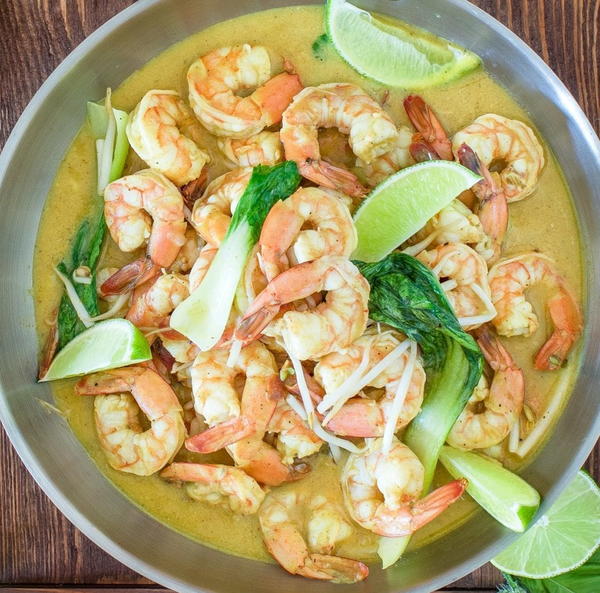 Creamy Citrus Shrimp Soup
"This creamy and flavorful stew is a great combination using almond milk and shrimp. This recipe is inspired by Thai Coconut curry where one of the main ingredients is coconut milk. Coconut milk is common in Asian homes. Here we substitute it with almond milk which is a commonly available in the US. It will give you a rich and flavorful stew and a more soup-like consistency. You can add any of your favorite herbs and spices to this dish. Some great ones would be cumin, paprika or lemon balm. And a stalk of lemongrass would add a lot of flavor as well."
Serves4
Ingredients
1 tablespoon vegetable oil
1 ounce shallot
2 tablespoons freshly grated ginger
2 ounces garlic
14 ounces almond milk
1 cup bok-choy leaves
1 pound peeled large shrimp
1 tablespoon lime zest
2 tablespoons lime juice
1 lime
In a heated pan, add oil and sauté the minced shallots until translucent.

Stir in ginger and chopped garlic, cook until fragrant.

Add almond milk and 1/4 cup bokchoy leaves. Bring it to a simmer and let it cook for 2 minutes.

Stir in peeled Shrimp, lime zest & juice.

Continue to simmer until shrimp turn pink, for about 5 minutes.

Season with salt, pepper, and topped with the cilantro and lemon wedges.
Your Recently Viewed Recipes