"27 Terrific After School Snack Recipes" Free eCookbook
Once school season starts up again, everyone wonders, "What are some great, fun after school snacks I can feed my kids?" Most of us want to make sure we are offering a variety of foods to our children, not just the same old bad-for-you cheesy poofs or candy that so many people resort to. That's why we've compiled this collection of 27 Terrific After School Snack Recipes for you. Homemade after school snacks are always a better bet than store-bought…they are easier on your conscience, because you know you're giving your kids and their friends healthier fare, and they are easier on your pocketbook as well.
This collection of 27 Terrific After School Snack Recipes includes veggie after school snack recipes, after school snack recipes with fruit, and yes, some sweet after school snack ideas as well. Besides eating up these yummy after school snack recipes, get your children involved in making them. Even the littlest kiddie cook can help!
While you're here on RecipeLion, subscribe to our free Quick and Easy Recipes newsletter to get free recipes delivered to your inbox every week.
Happy snacking!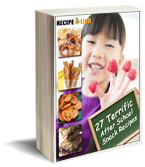 Click here to download the 27 Terrific After School Snack Recipes free eCookbook now. [pdf]
Included in this 40-page eCookbook:
Veggie After School Snack Recipes

After School Snack Ideas with Cereal

Cheesy After School Snack Recipes

Sweet After School Snack Ideas
Sweet Potato Chips — Use this sweet potato recipe to learn how to cook a sweet potato like a regular potato, only with tastier results. Unlike potato recipes, sweet potato recipes are healthier for you because they contain more nutrients. (page 7)

Crunchy Zucchini Sticks — These crunchy zucchini sticks are a great alternative to french fries. Bread and bake them and try them with a variety of dipping sauces, marinara or a ranch sauce would work well. A great way to get the kids to eat veggies for their after school snacks. (page 10)

Oven French Fries — A great easy to make snack or side dish for any dinner, these crunchy oven fries are wonderful. Who needs all that grease when these Oven French Fries are sure to curb any cravings you are having. (page 8)
Dried Fruit Oatmeal Bars — These dried fruit oatmeal bars feature unusual dried fruits, cranberries and pears. They are also quite sweet, but still much healthier than other popular after school snack recipes for candy and cookies! (page 14)

Cheerio Nuggets — For an easy and fun dessert, make these yummy nuggets of goodness using an old favorite - Cheerios! They make a great after-school snack for your kids...and all the others in the neighborhood. (page 15)
Samantha's Afternoon Quesadilla — For a great, easy snack, take a few minutes and make this if you're near a stove, or pack it up and take it with you. Grains, lean protein, calcium and vegetables all make it into this compact snack. (page 18)
After-School Pizza Rolls — Whether you're having a group over for the big game or preparing an after-school snack, everyone will love these delicious and easy appetizers! Impress your guests with homemade, not store-bought pizza rolls. (page 20)
Phyllis' Granny Smith Applesauce Squares — I just put together a few easy-to-make, healthy recipes for back-to-school. This one substitutes applesauce for the large amount of butter and white sugar that traditionally makes up a dessert bar. (page 24)

Chocolate Almond Pretzels — Chocolate Almond Pretzels are a special treat and taste great any time! This is a favorite chocolate covered pretzel recipe because of the terrific additional flavor from the almonds. Try it today and you'll see why everyone loves it! (page 26)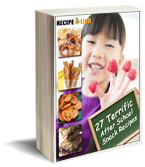 Click here to download the 27 Terrific After School Snack Recipes free eCookbook now.. [pdf]
For help downloading this eCookbook, please see our guide on how to download our eCookbooks.

To view and download the complete collection of free RecipeLion eCookbooks, click here.
Your Recently Viewed Recipes
Join our community of 5 million cooks!
Get free recipes, exclusive partner offers, and more.
Thank You for Signing Up!
There was an issue signing you up. Please check your email address, and try again.