Baked Aubergine with Cumin and Yoghurt Sauce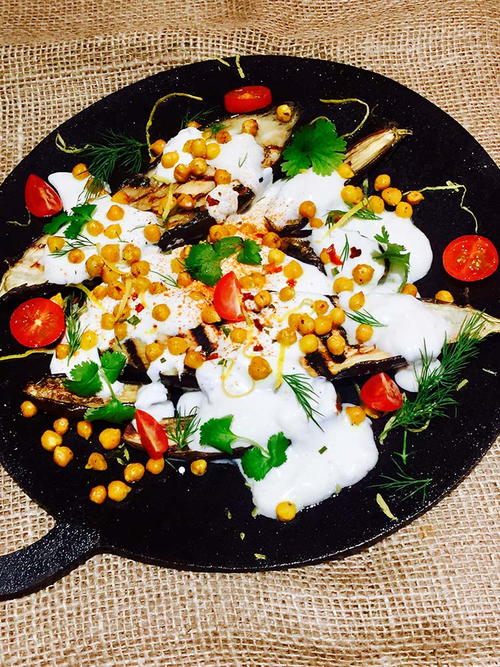 Baked Aubergine with Cumin and Yoghurt Sauce
"This vegetarian aubergine with cumin and yoghurt sauce dish is truly refreshing. Yes, I was trying to think of different words to describe it but I think refreshing is exactly the word that covers and says everything about this wonderfully balanced dish. It's the aubergine smoothness, the chickpeas nuttiness and the cumin flavour mixed with the fresh lemon, ? garlic and fresh and crisp herbs, AMAZING! It can be served both warm or cold. Okay then let's just reveal this easy peasy recipe. Bone appetite!!"
Notes• You can keep this as a vegetarian dish served with some herby couscous. It will serve 3-4 people as a main or 5-6 as a side dish depending very much on the size of aubergines. • Add some pomegranate if you have to hand for an extra colour and subtle flavours. It makes the dish look absolutely superb. I just didn't have any this time. • As herbs, the best to use are coriander or cilantro, dill, parsley and/or basil. I have also used 3-5 mint leaves finely chopped which can be sprinkled over or could be mixed in the yoghurt. It would be particularly delicious when eating this salad as a side to grilled or barbecued lamb. • As an alternative to cumin powder if not too keen on it, you could use any Paprika smoked or unsmoked, zaatar, or coriander powder.
Serves4
Ingredients
1 aubergines
400 g cooked chickpeas
1 pinch chilli flakes
250 g Greek yoghurt
1 tsp cumin powder (shared between sauce, aubergine and chickpeas) * use more if want
1/4 tsp turmeric powder
1-2 cloves garlic (crushed and chopped)
4-5 cherry tomatoes halved
2 tbsp olive oil for cooking
1 tbsp salt plus one pinch for the sauce
Instruction
Prepare the aubergines ahead by washing them cutting them in half lengthways. Carefully score them with criss-cross cuts and sprinkle most of the salt over (leave just one pinch of salt for your yoghurt sauce) and put aside for 20-30 min.

Meanwhile prepare the yoghurt sauce by taking a bowl out and mixing the yoghurt with the cumin powder, the lemon juice, crushed garlic, half of the lemon zest (keep the remainder for sprinkling over) pepper and a pinch of salt.

Prepare your chickpeas by taking them out of the can, rinse and place in a pan over medium heat with 1 tsp of olive oil. Cook for 3 minutes shaking the pan every now and again so the chickpeas coat in olive oil evenly. Sprinkle some salt, one pinch of cumin powder, one of turmeric powder and a tiny one of cayenne pepper. Cook for a further 3 minutes.

Turn oven on now and preheat at 180C.

The aubergines should have released some juice. Carefully and very gently squeeze each aubergine to discard of those juices.

Brush each aubergine half with the olive oil, sprinkle some cumin powder and place them in a tray on baking paper. Repeat this with all 8 halves.

Roast for about 35-40 min at 190C until they have browned and softened nicely. They can also be grilled but best to slice them if you want them grilled.

Take the aubergines out dish out and sprinkle the chickpeas all over. To serve them drizzle the yoghurt sauce over and then sprinkle the chopped herbs.
Your Recently Viewed Recipes
Join our community of 5 million cooks!
Get free recipes, exclusive partner offers, and more.
Thank You for Signing Up!
There was an issue signing you up. Please check your email address, and try again.