Chopped Tomato House Salsa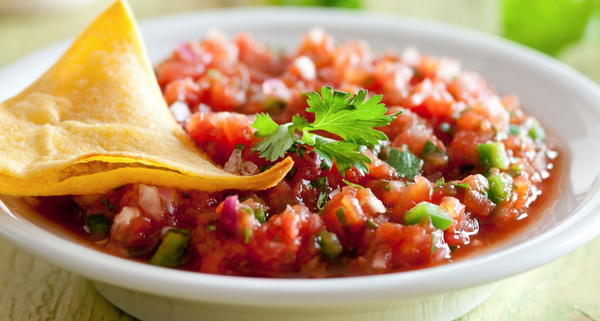 Chopped Tomato House Salsa
If you're throwing a fiesta anytime soon or just in the mood for a a little bit of spice, whip up this Chopped Tomato House Salsa in seconds. There's never a bad day to open a fresh bag of chips and dress them up with a little bit of crushed tomatoes, onions and chilies. This easy homemade salsa dip is a great party appetizer and will satisfy your taste buds. Because it's so simple to make, you can make batches on end without feeling overwhelmed. Throw a fiesta the right way by adding this tasty tomato treat to the table.


Be sure to enter for a chance to win a Brieftons Tall Food Chopper during the 12 Days of Christmas in July! This giveaway runs until July 30th and you can receive an extra entry just by commenting below on this page.
Makes1 cups
Recipe CourseAppetizer, Snack
Ingredients
1 bunch green onions, trimmed, cut into 1-inch piece and or/ 1/3 red onion, chopper
1 cup coarsely chopped fresh cilantro
3 cloves garclic
4 ounces can chopped green chiles
28 ounces can tomatoes, with juice
1 lime, juiced
1 tablespoon olive oil
1 teaspoon seasoned slt or Cajun seasoning blend
Additional hot stuff as desired- Tabasco, jalapeno, etc
Instructions:
Using a food processor, place the onion, garlic and cilantro leaves in the work bowl, and pulse a few times to chop.


Scrape down the sides of the bowl with a rubber spatula and add the remaining ingredients. 

Pulse a few more times- enough to achieve a uniformly chunky consistency.


Let the salsa ripen at room temperature for an hour or longer. If you like a traditional "soupy" salsa, stire in 1/4 cup of ice water at serving time.
Contest Rules:
There is a maximum of one extra entry per person. The extra entry will be based upon a comment left on this project. Duplicate comments will be deleted and are not tallied.
The winner will be selected at random from the comments on this page and the entries on the contest page.
The winner will be contacted on the morning of July 31, 2017.
Email Address provided in their account (please do NOT leave your email address in the comments--you already provided it when you created your account)
You have until Sunday, July 30, 2017 at 11:59pm EST to leave your comment on this post. Comments posted after that will not be counted.
Contest open to anyone 18+ in US and/or Canada. Excludes Quebec and Puerto Rico.
Your Recently Viewed Recipes