Why Salads Are Good for Health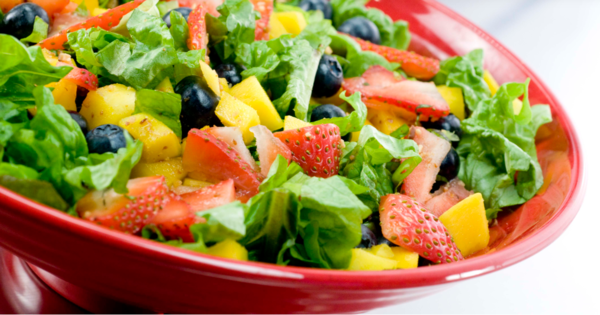 Why Salads Are Good for Health
"Are you one among those health conscious salad eaters, who prefer a bowl of salad over exotic starters each time you dine out? Have you ever wonder, is this choice you are making is the bet? Well, the appropriate answer would be "NO". The bad news is that you may go wrong with your salads, though you think you will never be. Believe it or not, in most cases, the salads you order are comparatively less healthier than the other exotic dishes in the menu which you consciously ditched being a disciplined diet follower. The fancy additives and dressings are the things to blame. Hey, fret not, if you are a serious salad eater, you have stopped by the right place. This post is all about salads – why to eat salad, when and how often to eat salad and most importantly what can go wrong with your salad. So please stay with us till the end of the most. Because we wish you 'eat well and stay healthy"."
NotesWhy salads are good for health
Salads are super easy to prepare. Even an amateur can prepare a bowl of salad in no time. Salads are cool, crunchy, colorful and fun to eat. Most importantly, salad recipes are totally customizable. You can always add fruits and veggies of your choice.
You can always grab a bowl of salad for lunch, supper or dinner and enjoy it guilt free.
Want some more reasons to reach for a salad today, here they are –
• Salads are great source of fiber
It is well known fact that fiber helps in preventing constipation. Fiber is a type of carbohydrates that keeps our gut healthy. But it is not just that. Consuming fiber helps in greatly in bringing down cholesterol level, treating diabetes, heart diseases and bowel cancer.
Now, salads are nothing but fibers from different sources tossed in a bowl. So enjoy the bowl of salad guilt free.
• Bowl of fruits and veggies
Dark green vegetables, colorful fruits and legumes are the common ingredients of any salads. These nutrients rich plant food do only good things to your body.
• Feel full and Cut calories
It is a well known fact that salads are low in calories. So a bowl of salad brings in a feeling of fullness. This in turn stops you from eating more therby reducing the overall calorie intake.
• Salads for good fats
Monosaturated fats found in olive oil, nuts and avocados help in absorbing protective phytochemicals. According to a recent study, meal that includes plenty of raw vegetables with olive oil is linked to reduced mortality.
In short, with every bowl of salads of green vegetables topped with olive oil you are adding more years to your life.

Dressings on salads—good or bad?
Now that we are well aware of health benefits of salads and how salads can be used to lose weight. We need to understand the most important thing – that is dressings on salads. In most cases these dressings may harm more that you imagine.
A one of a kind plate of mixed greens on the menu (doesn't necessarily healthy) could include bread garnishes (stale broiled bread), canned natural products (sugar syrup loaded), rich dressings (for the most part these contain a larger number of calories than the whole serving of mixed greens), fricasseed noodles or heaps of cheddar (calorie thick).

These 'dressings' which are most often not addressed, contain a great deal of oil, salt, sodium, added substances and additives, which can make the apparently sound plate of mixed greens into a calorie thick mixture of additives.

So, now the obvious question would be – how to make salad healthy?
Here are few tips to make sure your diet-friendly salad is indeed a bowl of required nutrients.

SALAD SENSE
An eating routine agreeable plate of mixed greens ought to be a well-adjusted blend of starches, fats and proteins

Pick vinaigrette-based dressings for your plates of mixed greens rather than the smooth ones

- Try including a greater amount of dim green veggies

- Choose a flame broiled, steamed or sautéed bit of protein for your serving of mixed greens rather than a fricasseed one, be it chicken, fish, tofu, paneer or eggs

- Don't neglect to include great fats. Look over avocados, nuts or various types of seeds like chia and sunflower

- You can likewise include a cup of natural product, pasta, potatoes or quinoa for a total dinner

- ..Say no to rich dressings, sweetened organic products or nuts, cold cuts and bread garnishes in your plates of mixed greens

- Finally, eat everything in moderation. Quality food in right quantity is the key to healthy body.

Your Recently Viewed Recipes
Join our community of 5 million cooks!
Get free recipes, exclusive partner offers, and more.
Thank You for Signing Up!
There was an issue signing you up. Please check your email address, and try again.