Gimbap, Korean Seaweed Rice Rolls | 김밥 (kimbap)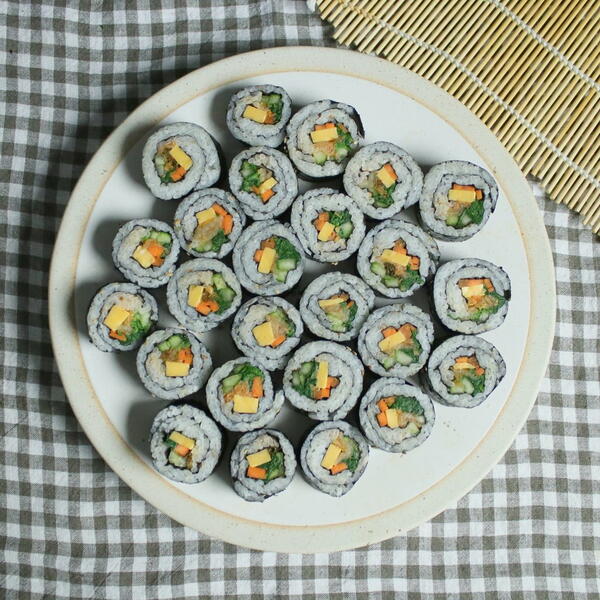 Gimbap Korean Seaweed Rice Rolls
"Gimbap (김밥) is a Korean dish made from cooked rice and other ingredients that are rolled in gim—dried sheets of nori seaweed—and served in bite-sized slices. Gimbap is a childhood staple for everyone in Korea as it's a portable meal wrapped up in him. The portability is what makes this easy to eat at picnics or outdoor events. Get creative with your own ingredients, but for now, you can try our version of this popular take-out food."
NotesRice: Place freshly made rice in a large, shallow bowl. Gently mix in 1 Tablespoon Jin Tuna Premium Seasoning Sauce, 1 Tablespoon Chung-O Extra Virgin Sprouted Sesame Oil and a hefty sprinkle of Chung-O Roasted Sprouted Sesame Seeds.
Let it cool down, cover, and set aside.

Carrots and Cucumbers: Cut carrots and cucumbers into matchsticks. Place on separate plates, adding ¼ teaspoon salt. Mix well and let both vegetables sweat for 5 to 10 minutes. Squeeze out excess water.
Spinach: Blanch spinach, rinse in cold water, and strain.
Serves4 gimbap, kimbap, rice dish
Place a sheet of Manjun Gim Double Roasted Organic Seaweed for Gimbap on a bamboo mat. Evenly spread about ¾ cup of cooked rice over top of it..

Optional: Cut another sheet in half and place flat across the bottom half of spread. We did this more for a pretty visual effect, as the extra sheet can be seen in the center after slicing.

Place carrots and cucumbers to create a "wall" for the other ingredients. Try using the sturdier ingredients when placing, this way the looser ingredients stay put.

Once the rest of the ingredients are thinly layered out, use both hands to roll the mat (along with gim and rice) over the fillings, so one edge of the rice and gim reaches the opposite edge. This centers the fillings in the roll, so they'll be nicely in the middle when you slice it.

Grab the mat with both hands and and press it tightly as you continue rolling the gimbap. Push out the mat as you roll, so it doesn't get wrapped in the gimbap.

Remove the roll from the mat at the end and set the finished roll aside with the seam down, to seal it nicely.
Your Recently Viewed Recipes
Join our community of 5 million cooks!
Get free recipes, exclusive partner offers, and more.
Thank You for Signing Up!
There was an issue signing you up. Please check your email address, and try again.