My Signature Lamb Kofta and Mint Drizzle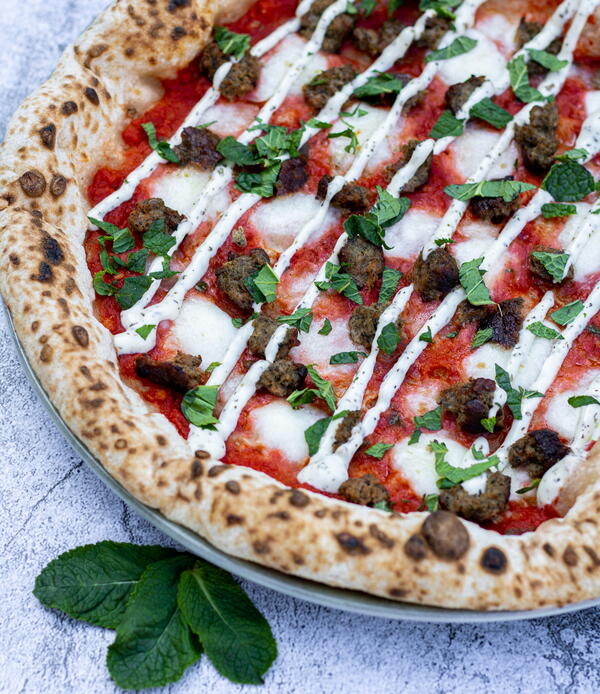 My Signature Lamb Kofta and Mint Drizzle
The pizza that "put me on the map!" A very proud moment early on in my pizza journey was when Ooni asked if they could include this pizza in their Father's Day recipe book. If I remember correctly, "A MILLION-PERCENT YES!" was my response. Just when I thought it couldn't get any better, they then used my photo on the front cover! It was at this point that I started thinking I was actually getting quite good at this pizza making thing. Lamb and mint together is one of the most iconic flavor pairings, which in my opinion, works so well in any dish. Using them on a pizza with fresh mozzarella and tomato sauce is no exception. Lamb kofta is a family favorite and something we eat together on a regular basis, so it was always going to feature on one of my pizzas, and I'm so excited to be able to share it with you.
 
Yields1 pizza (serves 1-2)
Ingredients
52 grams (1/2 cup) fresh mozzarella
Extra virgin olive oil, as needed
2–3 store-bought lamb kofta kebabs
1 (275-g) ball dough
2–3 tablespoons (30–45 ml) tomato sauce
1 teaspoon finely grated Grana Padano
Fine semolina flour
Drizzle of yogurt mint sauce
Handful of fresh mint, chopped
INSTRUCTIONS
To keep the pizza from getting soggy, remove as much moisture from the fresh mozzarella as possible by breaking it into small pieces and laying them down onto a few layers of paper towels at least 1 hour before cooking. To help draw out even more moisture, lay another paper towel on top as well.
 

Fire up your Ooni pizza oven, and aim for a stone temperature of 800 to 840°F (430 to 450°C). Depending on the outside temperature, this should take approximately 20 minutes. In the colder months, an extra 10 to 15 minutes might be needed. You can check the stone temperature with an infrared thermometer.
 

When the stone temperature of the oven reaches approximately 570°F (300°C), place a cast-iron skillet with a little oil into the oven and let it heat up for 2 minutes. Using your heatproof oven gloves, remove the skillet and add the lamb kofta kebabs. Cook in the oven for 6 to 8 minutes, turning the kebabs every 1 to 2 minutes for a nice, even cook. Remove from the oven, and break the lamb into small pieces. Set aside.
 

When the stone has reached approximately 750°F (400°C), stretch out the dough ball.
 

Add the tomato sauce to the center of the base and spread in a circular motion, moving out toward the crust using the back of your spoon. Evenly add the Grana Padano, fresh mozzarella and lamb kofta pieces before a drizzle of oil.
 

Give your chosen pizza peel a light dusting of semolina flour before transferring the dough onto it. You can do this by lying the peel flat alongside the dough, and then, using both hands, gently lift the edge of the dough and slide it onto the peel. This stage can be daunting, but be confident and do it in one smooth, quick movement. After sliding the dough onto the peel, give it a final reshape. If you don't feel confident enough to use this technique, you can place the stretched-out dough straight onto the floured peel after stretching it over your knuckles and top while it is on the peel.
 

When the stone temperature has reached 800 to 840°F (430 to 450°C), give the peel a little shuffle/shake to ensure the dough isn't sticking, and then launch confidently into the middle of your Ooni pizza oven. Do not take your eyes off the pizza, as a few seconds can make a big difference to the overall bake!
 

After approximately 20 seconds, you will begin to see the crust at the back of the oven start to brown/blister. Warm the metal peel/turning peel in the back of the oven by holding it in the flames for a few seconds. (This will help stop the peel from sticking to the bottom of the pizza.) Then, carefully slide it under the pizza and turn it 180 degrees. When the crust that is now at the back of the oven starts to brown/blister, turn the pizza again, but this time, 90 degrees. Finally, do one last 180 degree turn so that all of the pizza has an even bake. The total cooking time should be 60 to 90 seconds.
 

Remove the pizza from the oven and slide it onto a cooling rack for 1 to 2 minutes before transferring to a display board. Add a drizzle of the yogurt mint sauce (I like to do this in a nice and neat zig-zag pattern) before finishing off with a sprinkle of freshly chopped mint leaves. Cut into 6 slices and serve hot.
 
Credit:
Reprinted with permission from The Ooni Pizza Project by Scott Deley. Page Street Publishing Co. 2023. Photo credit: Nikki Deley.
Your Recently Viewed Recipes
Join our community of 5 million cooks!
Get free recipes, exclusive partner offers, and more.
Thank You for Signing Up!
There was an issue signing you up. Please check your email address, and try again.