Silky Leek and Roquefort Orzo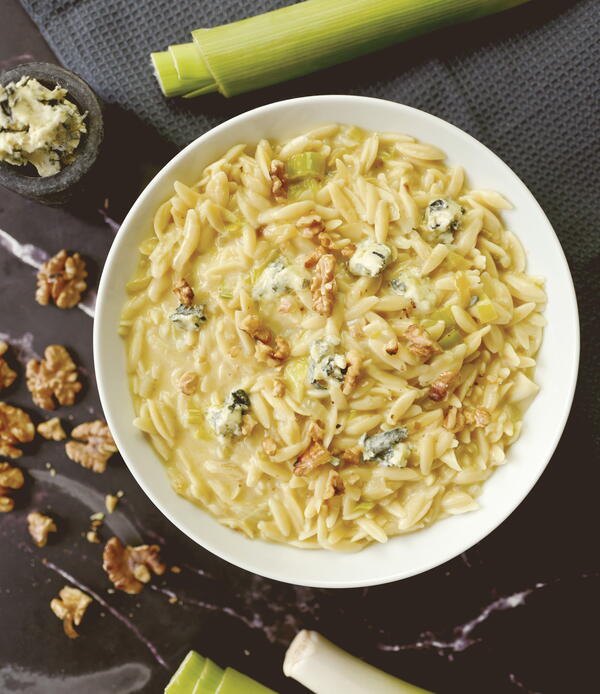 Silky Leek and Roquefort Orzo
This orzo dish is pure comfort—the Roquefort makes it creamy, tangy and just sublime with the silky soft leeks. Mini rice-shaped orzo absorbs liquid and flavor just like rice, yet unlike traditional risotto, it's a lot easier to achieve a perfectly al dente creamy result without constant stirring. While it's perfect as is, feel free to top it with some crispy bacon for your meat-loving friends!
 
Yields3 - 4 servings
Ingredients
2 cups (300 g) finely sliced leeks
1 tablespoon (14 g) unsalted butter
1 tablespoon (15 ml) olive oil

1

/

2

cup (80 g) finely chopped white onions
Pinch of salt

3

/

4

cup (160 g) orzo
1 cup (240 ml) dry white wine
2 cups (480 ml) chicken stock
1 tablespoon (4 g) finely chopped fresh parsley
3 oz (85 g) Roquefort cheese, crumbled, plus more to serve
1 tablespoon (15 ml) lemon juice
2–3 walnuts, chopped, divided
Directions
Begin by soaking the leeks in a pot of boiling water for 3 to 4 minutes. Strain them and set them aside.
 

Turn on the rice cooker, set the mode to Cook and add the lid to let the rice cooker preheat for about 1 minute.
 

Add the butter and olive oil to the pot when it's heated. Cover it and let the butter melt for 1 to 2 minutes, then toss in the onions. Season with salt and sauté the onions for a minute before putting the lid on and cooking them for 4 to 5 minutes, or until they are golden.
 

Now add the leeks, sauté for 2 minutes and then put on the lid, frying them until they are softened. This should take another 4 to 5 minutes.
 

Add in the orzo and stir well. Pour in the wine and stir everything together. Cook, covered, for 8 to 10 minutes. Give everything another stir and add in the stock. Cook for another 7 to 10 minutes, or until the orzo is fully cooked.
 

Change the cooker mode to Warm. Add the parsley, Roquefort, lemon juice and most of the walnuts. Mix well and serve with a sprinkle of the remaining walnuts and some more of the crumbled, creamy Roquefort.
Your Recently Viewed Recipes