Superb Lamb Biryani With Quail Eggs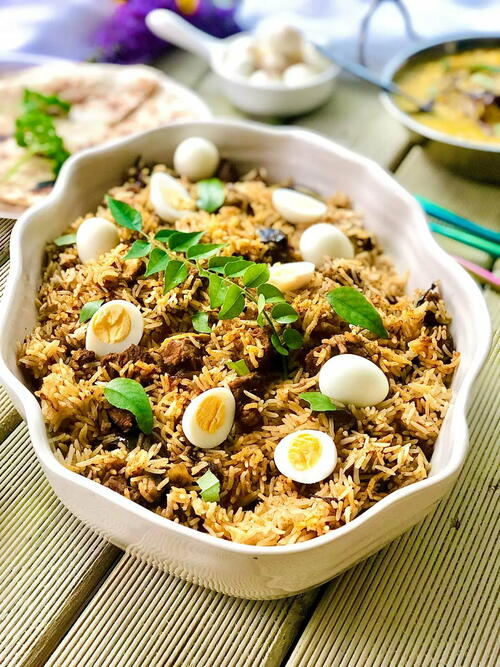 Superb Lamb Biryani With Quail Eggs
"I am not sure what could be a better choice than a simple and easy to make biryani dish. Biryanis are sensational in terms of flavour and make such a quick dinner, lunch, potluck or are a quick fix when guests announce a short noticed visit. Biryani, in general, brings me joy, but lamb biryani, oh lamb biryani is something at a different level, it is one of those dishes that you want to make over and over again and never have enough of it. Biryani is indeed a celebration of aromas, colours, and flavours, with perfectly cooked, fluffy basmati rice beautifully scented and tender spiced lamb chunks. Honestly, it cannot get any better. "
NotesLamb biryani is best served immediately, but if you want or need to make ahead, it needs to be kept in an airtight container for up to one week in the refrigerator or 3 weeks in the freezer.


Serves6
Ingredients
900 g lamb meat (2 lb or 4 cups) add some bones too, trim the meat of any excess fat and cut into 2cm (1 inch) cubes
400 g basmati rice (2.1 cups/ 14.1 oz )
250 ml stock or water chicken, lamb, beef or vegetable stock (low sodium)
250 ml yoghurt (approx 1 cup) plain Greek Style (min 2 % fat)
12 large quail eggs boiled for 2 min
2 large onions ( at least 500g /1.1 lb) thinly sliced
4 pods cardamom or 1/4 tsp powder
4 cloves garlic crushed/ minced
2 tbsp fresh ginger grated
2 tsp salt Kosher or pink Himalayan
2 tbsp olive oil ghee or butter
1 small cinnamon stick
3 cloves
2 small bay leaves fresh or dried
1/3 tsp turmeric powder
1 tsp gram masala homemade or bought
2 med lemons juiced
10 tbsp coriander/ cilantro
4 tbsp mint fresh
1/2 tsp black pepper freshly ground
10-15 curry leaves fresh (optional)
Instructions
Place the lamb chunks – bones including (if any) in a large bowl. Add the yoghurt, minced garlic, grated ginger, 2 tbsp lemon juice and 1 tsp of salt. Mix well until well coated. You may transfer this into a zip bag or you may keep in the same bowl but you will need to cover with cling film and refrigerate for a min of two hours or even overnight.

Place a Dutch oven over medium/high heat, add the olive oil, add the onions, 1/2 tsp of salt, and sautee, stirring occasionally, until the onions have cooked and all juices have run out ( this may take 20-25 min). If you wish to caramelize the onions, keep on cooking them for a further 15-20 min until they have turned brown. I personally don't do this but only sometimes with a fraction of them to add over the rice.

Reduce the heat to low, remove some of the cooked/caramelised onions and reserve to use as a garnish at the end. Add 2 cardamom pods, the cinnamon stick, the 3 cloves, the bay leaves, curry leaves, garam masala and the turmeric. Cook for 30 – 40 seconds until all spices are releasing seriously good smelling scents. Oh my! The fragrances!

Add the marinated lamb along with the stock or water, part of the cilantro, 1/2 of the chopped mint, and green chilli. Increase the heat to medium-high, and bring the liquids to a boil and when it begins to boil, reduce the heat to low. Cover with a lid, and cook for 30 minutes, stirring occasionally, until the lamb is completely tender. Remove the lid and reduce the liquid further.

While the lamb is cooking beautifully, let's prepare the rice. by placing this into a colander and rinse with running cold running water, until the runoff is no longer cloudy. Let it drain well then place it into a bowl and cover with approximately 4 cups (1l) water. Let it soak for about 30 minutes and then strain it and discard the water this soaked into.

Preheat the oven at this point at 180°C or 350°F and place the rack in a position that would place the Duch oven right in the middle of the oven. Boil the quail eggs for 1 min (soft) to 3 min for hard-boiled. Add them into the boiling water.

In a large pan, combine rice with 4 cups cold water, lemon juice, the remaining 1 tsp salt, the remaining cardamom pod, and bring to a boil over medium heat. Boil for 2 minutes and then strain the rice. We need the rice to be partially cooked with an opaque inner ring if you were to break a grain.

When the lamb is nicely cooked and tender and the liquid has reduced, remove from the heat. Using a wooden spoon or a spatula, spread the rice out evenly over the meat in the Dutch oven.

Garnish the top of the biryani with the reserved (caramelized) onions. Cover the Dutch oven with its lid and place it in the preheated oven. Allow it to cook for 20 minutes or so. Remove from the oven and set aside for 5 minutes. Use a wooden fork to loosen the rice and serve immediately straight into the serving plates or this can be transferred to a large serving platter. Garnish with the boiled quailed eggs and the remaining fresh mint and cilantro. I have used some curry leaves as these are very pretty.
Your Recently Viewed Recipes
Join our community of 5 million cooks!
Get free recipes, exclusive partner offers, and more.
Thank You for Signing Up!
There was an issue signing you up. Please check your email address, and try again.