Parrano Cheese Review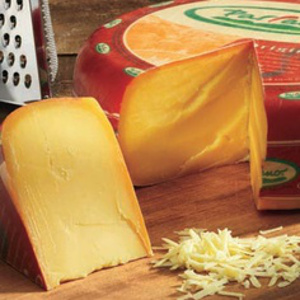 Parrano Cheese
Provided by Parrano
Reviewed by Jordan Sward
Parrano cheese really is one-of-a-kind. Although I'm no cheese connoisseur, I do consider myself a cheese lover, and have had my fair share of Goudas, Parmesans, and everything in between. I can honestly say that this cheese might be one of the best I've tried. It's technically a Gouda, but has all the flavor of a slightly sharp Parmigiano-Reggiano, with a wonderfully creamy texture. Parrano cheese can be enjoyed in slices, as well as on sandwiches, shredded over soup, or melted over pasta bakes.
Although the flavor of aged cheese is wonderful, it's sometimes just a little too sharp and tends to be a bit crumbly. Parrano cheese is aged 5 months, which is the perfect amount of time for it to develop its nutty flavor, while keeping the consistency of a young Gouda. It's the perfect combination of super flavorful cheese and soft slices that are wonderfully creamy.
After just one small bite of this cheese, I found myself wanting more. Unlike most Aged Gouda, Parrano is milder and melts in your mouth, so it's easy to keep eating, and eating, and eating it! It's firm, so can be packed as a picnic snack or laid out on a cheese platter during a party.
I especially love how versatile Parrano cheese is. It can easily be cut, grated, or melted, so its uses are endless. If you prefer simple slices, this cheese would go great with crackers and assorted meats. You can also grate it to use as a topping on soup, salad, or pasta dishes. This cheese is so versatile, it can take the place of cheddar or Mozzarella in practically any recipe! Melt it over a casserole, use it to make delicious pizzas, or slice it and let it bake over chicken dishes. This may be one of the few kinds of cheese that you would never run out of uses for, since it can go so many ways! I can even imagine making a grilled cheese with it or using it as a replacement for cheddar in mac and cheese.
Parrano won a gold medal at the 2006 World Championship Cheese Contest for "Best of Class, Gouda." It was also first runner up for the World Champion Cheese Title!
Parrano is made using the same technique as Gouda, but utilizes the culture from a Parmigiano-Reggiano to start it. So this hybrid cheese gives you the best of both worlds. Whether you're serving lovers of sharp, aged cheese, or soft, mild cheese, Parrano is a safe bet because it's a tried and true crowd-pleaser for any palate.
So whether I'm entertaining, cooking, or snacking, I think Parrano might be my new go-to cheese.
Enter to win 1 pound of Parrano cheese plus BOSKA Holland Geneva Beech Wood Cheese Board from 8/12/13 to 8/25/13.


Your Recently Viewed Recipes
Join our community of 5 million cooks!
Get free recipes, exclusive partner offers, and more.
Thank You for Signing Up!
There was an issue signing you up. Please check your email address, and try again.