BergHOFF Ron Chef's Knife Review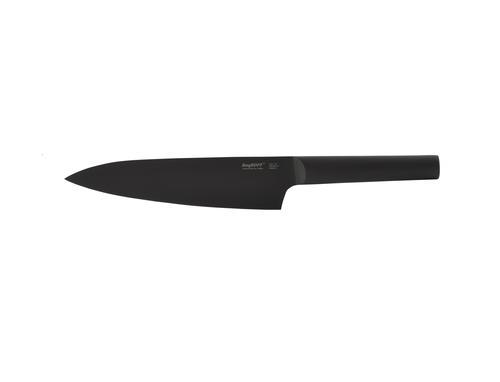 BergHOFF Ron Chef's Knife Review
www.berghoffworldwide.com
Reviewed by , Editor, RecipeLion.com

The BergHOFF Ron Chef's Knife is one of the most unique knives I have ever used. The black steel knife is made from titanium and features a non-stick coating. The matching black handle makes this knife incredibly sleek and professional looking.



This knife looks quite unique upon first look. The entire knife, blade and handle, are forged from a single piece of metal. The steel itself is very strong and can slice through just about any food item. The nonstick coating allows you to prep food without it getting stuck to the knife. This is particularly helpful when dicing onions since they have a tendency to stick to blades. 



In addition to the superior materials used to make this knife, the actual design helps to chop better. While the handle doesn't have a soft grip like some knifes, it is forged to fit comfortably in any hand. The overall shape of the knife actually provides a great rocking motion for chopping.



The knife also has a perfect balance between the blade and the bolster. Once I determine that I like the blade of a knife, the balance is the next quality I look at. It allows for great control over the knife's motions, leading to perfect cuts.



Overall this is a knife I would recommend for any kitchen. The all-purpose functionality, paired with the durability of the materials, ensures it will be a vital tool for any cook or chef.
Your Recently Viewed Recipes