"17 Effortless Recipes With Cake Mix" eCookbook
"17 Effortless Recipes With Cake Mix" eCookbook
Explore the world of easy cake recipes made even simpler with cake mix!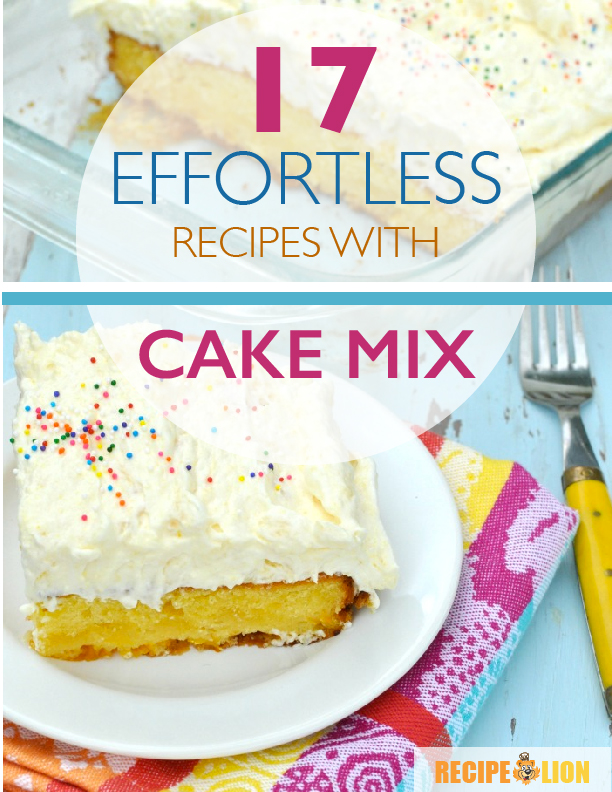 Table of Contents
Note from the Editor
Dear Cooking Enthusiast:

Baking is fun but let's face it, sometimes you just don't have the time to create all the different dessert recipes you want to. With this collection of 17 Effortless Recipes With Cake Mix, baking becomes easy and efficient! Skip all the extra work and still get the same delicious results; try one of these amazing recipes using cake mix and you'll understand what we're talking about!
Discover the huge variety of drool-worthy desserts that you can whip up using a packaged cake mix. There's a little something for every taste bud in this collection. We've rounded up the best chocolate cake recipes as well as some great fruity recipes perfect for the summer. Plus we're sharing some of our favorite cake mix recipes straight from our test kitchen! From Orange Blossom Cake (pg. 17), to Glazed Birthday Cake Muffins (pg. 30), there's sure to be something for everyone in this collection.

So if you need a quick and easy dessert recipe you can whip up in a flash that still tastes like it was made from scratch, try one of these simple cake mix recipes and get ready to 'wow' your friends. With a recipe for almost any occasion, you're sure to find some delightful options that will stay in your baking repertoire for years to come.

Happy baking!

Sincerely,
The Editors of RecipeLion
What's Inside this Free eCookbook?
Chocolate Cake Recipes With Cake Mix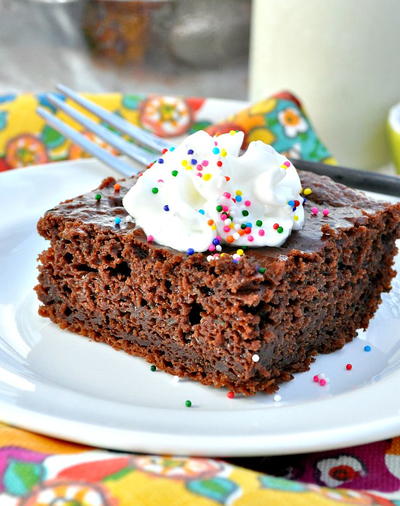 When it comes to simple dessert recipes to serve at a party or family gathering, chocolate cake is a must-make. Using pre-packaged cake mixes, whipping up moist and delicious chocolate cakes becomes a breeze. Included in this collection of chocolate cake recipes with cake mix are recipes for Greek Yogurt Chocolate Zucchini Cake (pictured; pg.25), one of our favorite easy dessert recipes from The Seasoned Mom, Blair Lonergan. Also included in our roundup of rich and tempting chocolate cake mix recipes are Oreo Pudding Poke Cake (pg. 27) and Better Than Anything Chocolate Poke Cake, which was made in our test kitchen and gobbled up in minutes. Find that recipe on page 29, and see for yourself just how good it is!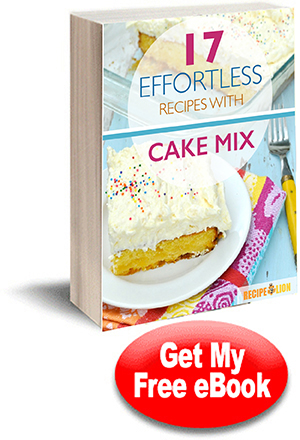 Download your free copy of the 17 Effortless Recipes With Cake Mix eCookbook today!
Fruity Recipes Using Cake Mix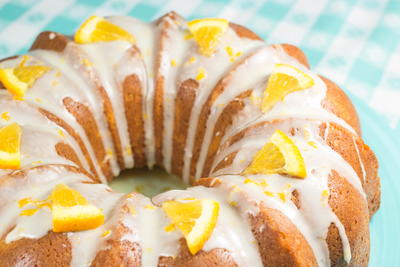 Not a huge fan of chocolate? No problem! There are plenty of yummy dessert recipes using cake mix that steer clear of the cocoa bean. In our fruity recipes using cake mix section, you'll find a citrus-infused Orange Blossom Cake (pictured; pg. 18), a not-to-be-missed Key Lime Cake with fresh berries (pg. 12) and a recipe for Creamy Pina Colada Cake (pg. 14) that will transport you somewhere tropical after just one bite. If you're a fan of fruity cake recipes, this is the section for you!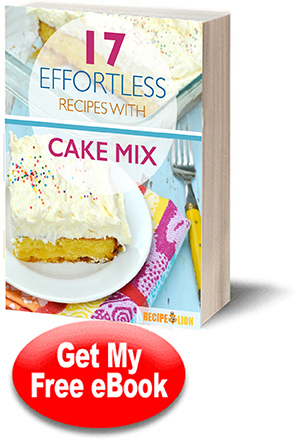 Download your free copy of the 17 Effortless Recipes With Cake Mix eCookbook today!
Other Cake Mix Recipes We Love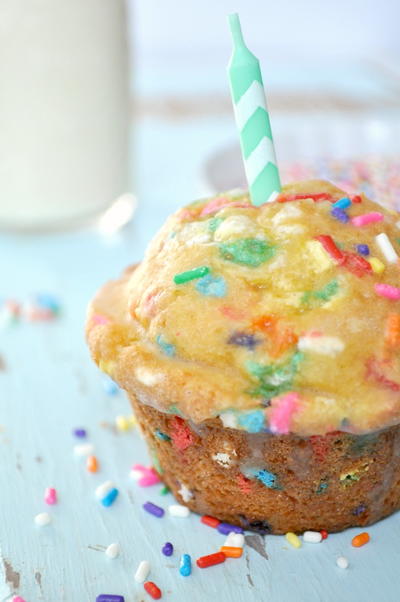 The easy cake recipes found in this section are some that didn't fall into an particular category, but that we certainly didn't want to leave out! Glazed Birthday Cake Muffins (pictured; pg. 31), are just what you need to make any special someone's birthday morning a sweet one. And, you won't want to miss out on the absolutely addicting Millionaire's Cake (pg. 37), that uses cream cheese, crushed pineapple, Cool Whip and coconut. These easy cake recipes and more are sure to find a place in your recipe box for years to come once you explore all this section has to offer.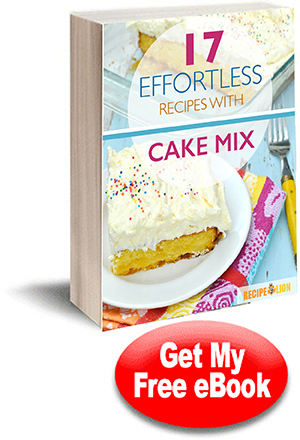 Download your free copy of the 24 Effortless Recipes With Cake Mix eCookbook today!

Need Help Downloading?
You can easily download and print out each eCookbook for easy reference while cooking. For help downloading our eCookbooks, see our help document here.

Don't Miss our Other eCookbooks!
If you enjoyed this free eBook, you won't want to miss any of our other downloadable recipe collections. You can browse our entire library of free e Cookbooks here.
Sign Up For Our Free Newsletter

With your free copy of 17 Effortless Recipes with Cake Mix eCookbook, you can subscribe to our free Quick and Easy Recipes newsletter to get free recipes delivered to your email inbox every week. Become a part of the RecipeLion community! By subscribing you will receive:
Six weekly emails with free recipes, tips, collection pages, videos and more + a weekly wrap-up.
Chances to win cookbooks and food products from our weekly giveaways and contests.
New recipes and eCookbooks made available to you throughout the year.
Access to our recipe large collection full of over 40,000 recipes, including budget friendly and quick and easy recipes.
The opportunity to share ideas and help others in the recipe and cooking community.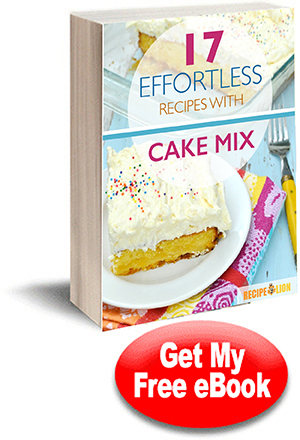 Download your free copy of the 17 Effortless Recipes With Cake Mix eCookbook today!
Your Recently Viewed Recipes
Join our community of 5 million cooks!
Get free recipes, exclusive partner offers, and more.
Thank You for Signing Up!
There was an issue signing you up. Please check your email address, and try again.