14 Easy Deli Salad Recipes for Summer + 6 Bonus Recipes
Easy deli salad recipes are an absolute must for the warm, care-free summer months. They require minimal or no cooking and are perfect for outdoor picnics, parties and potlucks! Use this awesome collection of 14 Easy Deli Salad Recipes Plus 6 Bonus Recipes to complete your summer menu.

Many easy deli salad recipes can be made with very few ingredients and therefore are often budget-friendly. Plus there's something for everybody with deli salads, whether you are a lover of potatoes, eggs, pasta or even just veggies. Pair it with a sandwich or turn it into one for an awesome outdoor summer lunch. Explore these popular easy deli salad recipes and share in some delicious summer fun.
14 Easy Deli Salad Recipes for Summer + 6 Bonus Recipes
Table of Contents
Fruit & Veggie Deli Salads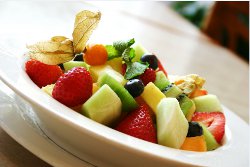 Fruit and vegetable deli salad recipes are the epitome of summer; it's the perfect way to get creative with in-season veggies and fruit. They pair wonderfully with an assortment of entrees and some fruit salad recipes are practically desserts! Just take the 3 layer Jell-O salad recipe below; with layers of fruit - it makes a great summer dessert! Then you have the ever universal coleslaw, good with BBQ, chicken, pork, beef, it's endless really. Also you'll have a hard time finding a deli salad that's more universally loved than broccoli salad; there are many versions of the recipe out there, but it's clear - readers love it!

24 Hour Vegetable Salad

3-Step Cole Slaw
3 Layer Jello Salad

Fragrant Fresh Fruit Salad (shown above)

Delicious Deli Salads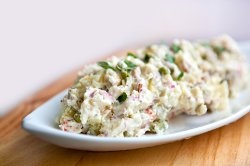 There are plenty of delicious deli salads out there, but this little collection below are some of the most popular among our readers - and staff! Potato salads are the first thing I think of when someone says deli salad, so of course we're going include this classic dish. But we've got more than the classic version; try some dill and French-style potato salad. Finally you have your great protein rich deli salads; chicken, egg, and tuna salads are awesome because you can make them into sandwiches, eat them with crackers, or even munch on them alone, whatever your floats your boat.

Quick and Easy Egg Salad

Old Fashioned Potato Salad

Very Easy Chunky Egg Salad
Best Chicken Salad Ever

Easy Cheesy Tuna Salad
Delicious Dill Potato Salad (shown above)
Bonus Easy Deli Salad Recipes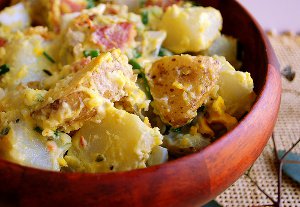 When you just can't get enough deli salad recipes to satisfy your crowd, turn to these bonus side dishes we've selected just for you. These potluck and picnic picks are perfect for any outdoor gathering and are sure to become some of your new favorite easy deli salad recipes as soon as you give them a try!

Doubly Good Deli Salad (shown above)
Very Best Broccoli Salad (shown at top of page)
Creamy Chicken Pasta Salad (shown at top of page)
Don't miss out on even more awesome recipes for the spring and summer seasons! We've collected 12 Palate-Pleasing Potato Salad Recipes you'll love, plus 30 Picnic Perfect Coleslaw Recipes you won't want to miss. And while you're at it, be sure to check out this collection of 12 Easy Egg Salad Recipes that are sure to make your mouth water.
Your Recently Viewed Recipes