How to Make Rainbow Cookies
From St. Paddy's Day to Pride, these cookies will brighten up any celebration!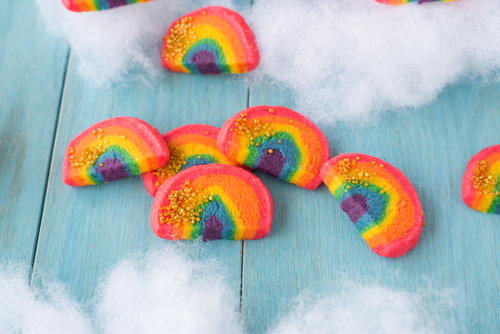 Learn how to make super easy rainbow cookies with our fun step-by-step tutorial. These cookies are the perfect thing to make any celebration a little bit sweeter and a whole lot cuter!

Dress up these cookies with edible gold sprinkles for the ultimate good luck charm. This is a super fun recipe to make with your kids for a theme party. As an added bonus, you can make these cookies into a fun tie-dye pattern for a different take on the rainbow theme if you prefer something a little different.

No matter what, these cookies make a statement and are a fun and creative dessert idea that you won't want to miss out on learning to make!
Recipe for Rainbow Cookies
Yields: about 6 dozen cookies

- 2 3/4 cups all-purpose flour, divided
- 1/2 teaspoon baking powder
- 1/4 teaspoon salt
- 2/3 cup confectioners' sugar
- 1/4 cup granulated sugar
- 1/2 pound plus 8 tablespoons butter (3 sticks), cut into pieces and kept very cold
- 1 teaspoon vanilla extract
- 1 teaspoon each color gel food coloring: red, orange, yellow, green, violet
- Edible gold sprinkles (for decoration)
Step 1
Combine 2 cups of the flour with the baking powder, salt, and sugars in a food processor; pulse to mix. Add the cold butter in pieces; process in short bursts until the mixture has a crumbly consistency. Add vanilla extract and process several times in 5-­second pulses until dough ball forms.
Step 2
Divide the dough into 6 equal portions. Add one portion of dough to the bowl of a stand mixer (with paddle attachment) and tint with the red food color. Add 2 tablespoons of flour and mix to combine. It should resemble the consistency of play-doh; it should not be sticky. If need be, add more flour. Repeat process with remaining dough piece and flour for all colors of the rainbow.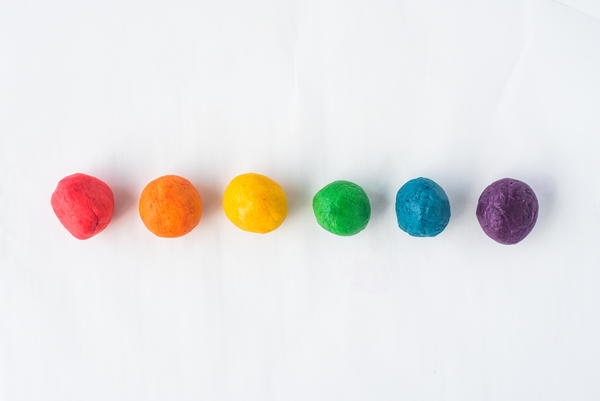 Step 3
Roll the violet portion of dough under your palms evenly. It should be pipe-shaped, about 10-inches long.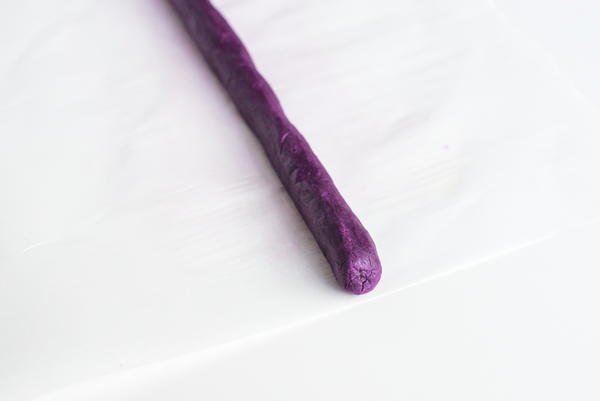 Step 4
Roll the blue portion into a 10-inch long piece and roll flat. This piece should be about 1/4-inch in thickness. Wrap over the violet portion by placing violet portion inside and rolling up like a jelly roll. Trim off any excess dough.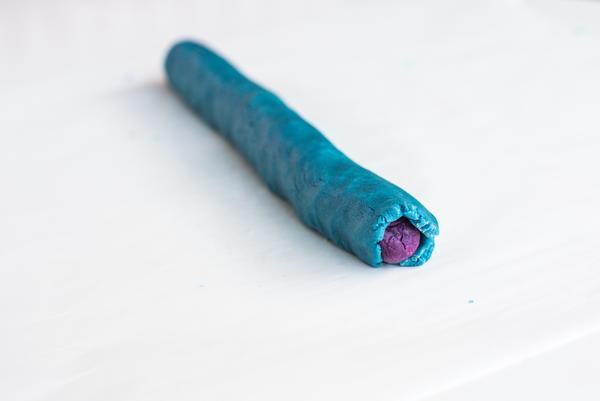 Step 5
Repeat this process using the remaining dough. You'll want to start from the center in the following color orders: violet, blue, green, yellow, orange, red.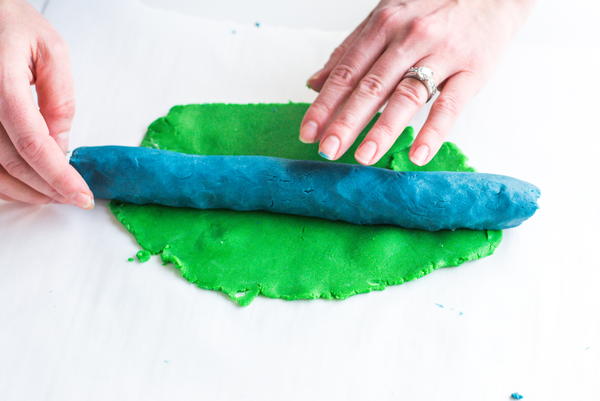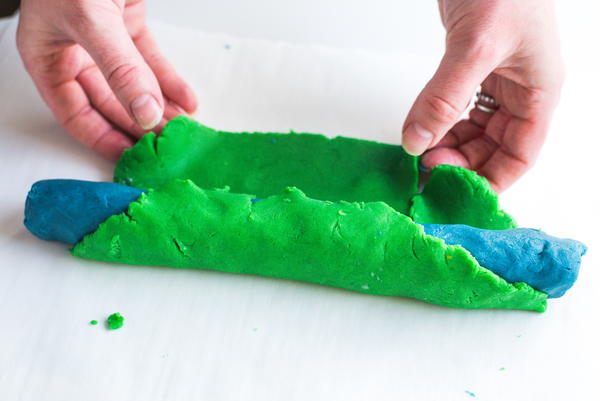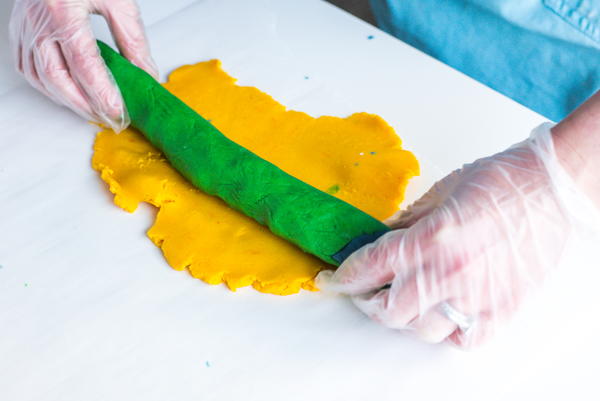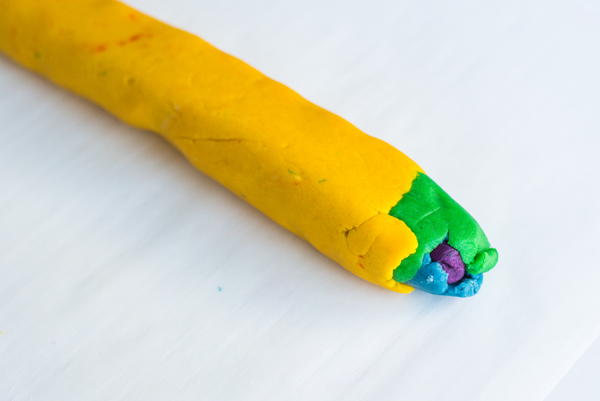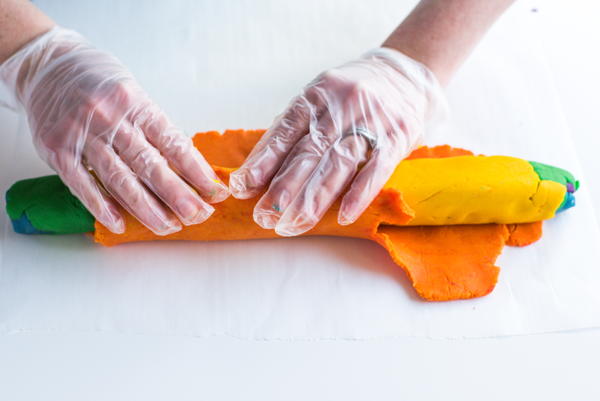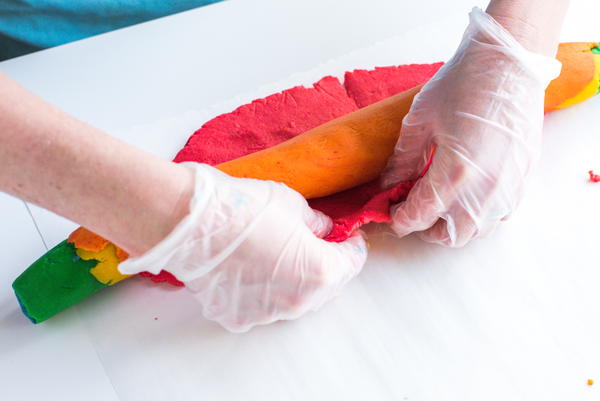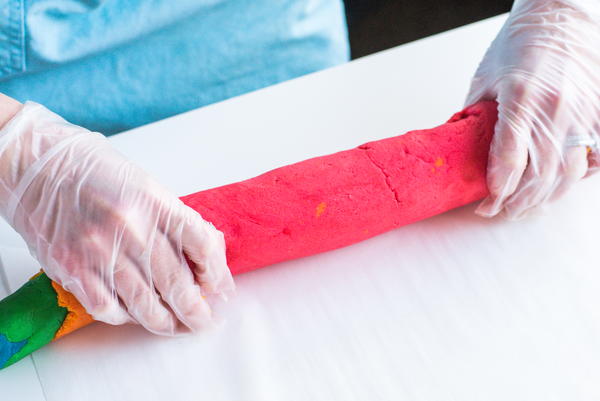 Note: Tears in the dough may occur during this process. You can repair them as needed by pinching the dough back together but it doesn't have to be perfect.
Step 5
Wrap the finished dough roll in parchment paper and chill in the freezer for 15 minutes or until slightly firm.

Tip: The cookies slice more cleanly when slightly frozen.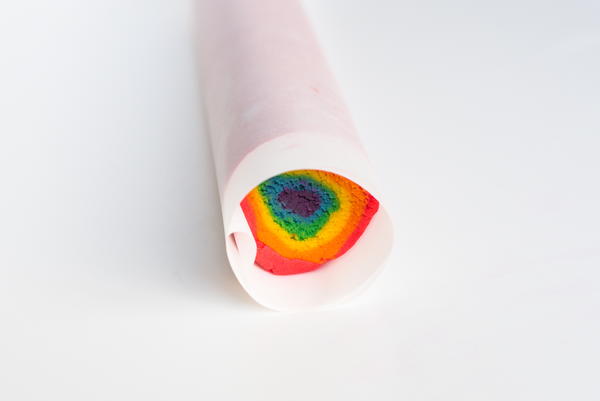 Step 6
Preheat the oven to 325 degrees F. Line 2 baking sheets with parchment paper. Using a knife, slice the dough into 1/4-inch thick cookies.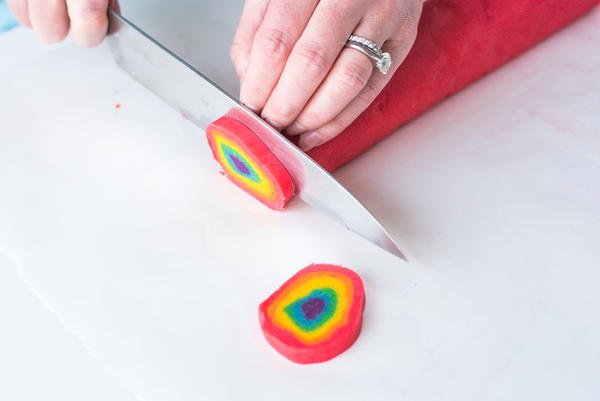 Step 7
Then, cut the circles in half for a fun rainbow shape.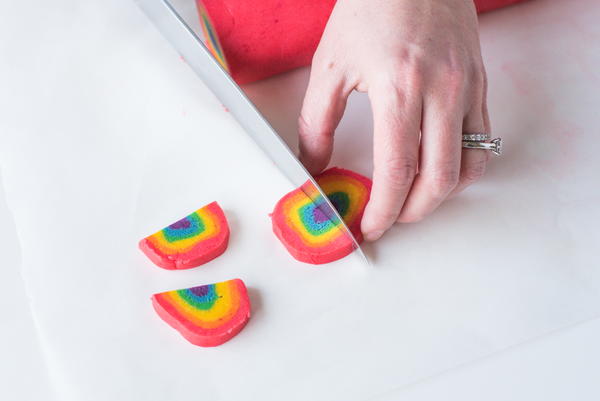 Step 8
Bake cookies on parchment lined baking sheets for 12-15 minutes.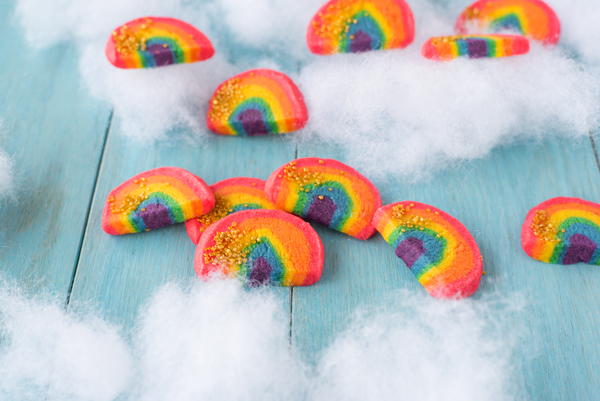 Bonus!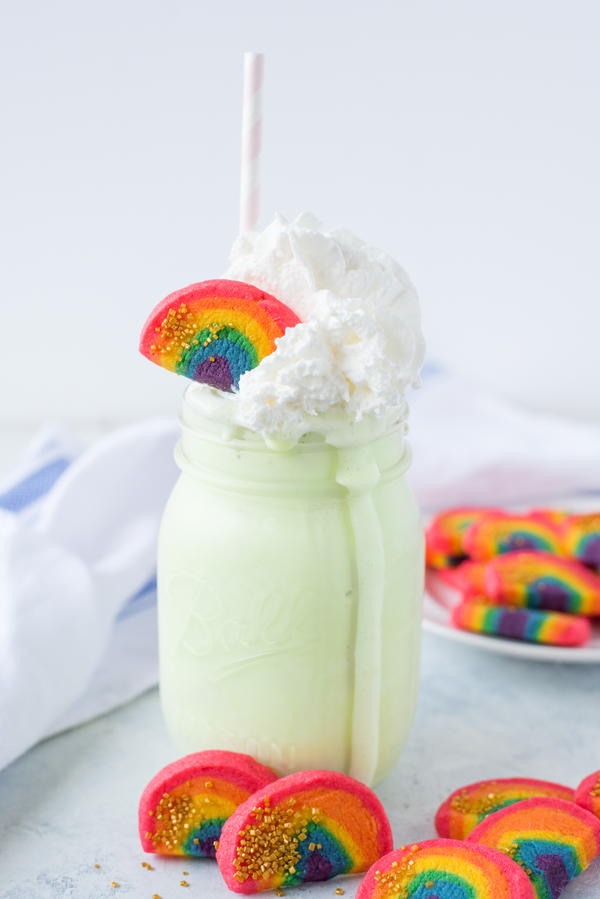 Your Recently Viewed Recipes
Join our community of 5 million cooks!
Get free recipes, exclusive partner offers, and more.
Thank You for Signing Up!
There was an issue signing you up. Please check your email address, and try again.