Lemon Cheesecake with Lavender Crust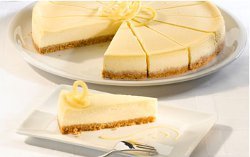 For a simply divine and luxurious dessert you'll have to try this Lemon Cheesecake with Lavender Crust. It's one of the best cheesecake recipes you can find. If you're a fan of lemon then you'll fall in love with this dessert.
Ingredients
For Shortbread Crust:
5 ounces plain flour
4 ounces butter, softened
2 ounces lavender sugar (caster), see recipe below
1 ounce cornflower
Filling:
20 ounces double cream, lightly whipped
17

1

/

2

ounces mascarpone cheese
finely grated zest and juice of 2 lemons
2 tablespoons icing sugar, sifted
Lavender sugar:
2 pounds caster sugar
2 teaspoons dried lavender blossoms or fresh flower heads
For Candied Citrus Zest:
2 large organic lemons, limes, oranges or a mixture
2

1

/

2

ounces cold water
2

1

/

2

ounces granulated sugar
Instructions
For Shortbread crust:
Put the butter and sugar into a mixing bowl and beat until pale and creamy.

Sieve the flour and cornflour into the bowl and mix well, wrap in cling film and put into the refrigerator for 30 minutes. Place the dough between 2 sheets of cling film roll out to fit the tin.

Preheat oven to 350 degrees F.

Put into the prepared tin and lightly press down into the edges, prick all over then place on the middle shelf of the oven and bake for about 20 minutes, or until a very light gold color.

Remove from oven, put onto a cooling rack and leave until completely cool.
For Filling:
Beat the cream and mascarpone in a bowl until smooth.

Add the lemon juice and zest plus the icing sugar, mix only until combined (taste and adjust sugar or lemon), spoon over the base and smooth the top, refrigerate.

Decorate top of cheesecake with candied citrus zest if desired (recipe below).

For Candied citrus zest:

Wash the fruit using a soft brush under cold running water.

Using a zester, remove the zest from the fruits in long strips.

Place into a saucepan and cover with cold water, cook over a medium heat, bring up to the simmer then cook for five minutes.

Remove from heat, drain and return them to the pan.

Add cold water and sugar, bring up to the simmer, reduce temperature to low and continue cooking until translucent and the water becomes syrupy and thickens.

Continue cooking for ten minutes then remove from the heat, (carefully) take the zest from the pan and place over a wire rack, separating the strips as you work.

Leave to cool and dry.

Dust in fine sugar (optional).
For Lavender sugar:
If using fresh flower heads, blanch in boiling water for 1 minute, remove from the pan and place on kitchen paper – pat dry.

If the flowers are fresh, allow them to dry, then layer the sugar and lavender blossom in the Kilner Jar and seal.

Put in a cool, dry place (a larder, cupboard or pantry) for two weeks.

Pour the sugar and lavender mixture through a sieve to remove the blossoms and return to a clean Kilner Jar.
Note: This sugar can be used in shortbread, biscuits, ice cream or tea.
Your Recently Viewed Recipes