Vintage Broccoli Cheese Casserole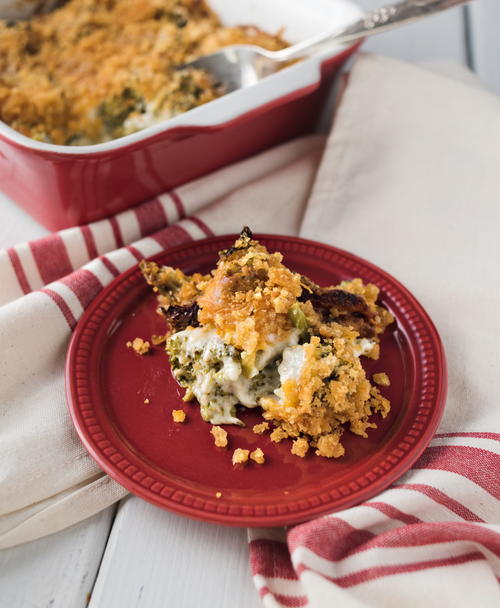 Editor's Note: Broccoli and cheese casseroles are just about as American as apple pie. This simple combination of ingredients is one of the most popular casseroles out there. This classic dish is perfect for the family on a weekday night. The best thing about Addie's broccoli cheese bake is that in addition to the typical cheddar cheese, it calls for swiss cheese, as well. This extra cheese adds an extra savory taste to the meal.
Did you know that broccoli is an invented vegetable? It was actually bred by Italian farmers in the 1700s from several different kinds of cabbage! A member of the cruciferous veggie group along with cauliflower and turnips, this veggie made its way over to America in colonial times. It wasn't until the 1920s that it really gained in popularity, leading us to discovering dishes like Broccoli Casserole that have become staples in the American diet to this day.
Serves9
Ingredients
1

1

/

2

pound fresh broccoli (about 8 cups)

1

/

2

cup (1 stick) unsalted butter

1

/

2

cup all-purpose flour
1 (12-ounce) can evaporated milk

1

/

2

teaspoon kosher salt

1

/

4

teaspoon freshly ground black pepper
1

1

/

2

cup grated Swiss cheese
1 cup sour cream

1

/

2

cup grated cheddar cheese

1

/

2

teaspoon paprika
1 (4-ounce) sleeve butter crackers, crushed
Instructions:
Preheat the oven to 350°F. Coat a 9 x 13-inch baking dish with cooking spray.

Cut the broccoli florets into bite-size pieces and the tender stems into small dice. Place in a large microwaveable bowl, add 1/2 cup water, cover with plastic wrap, and microwave for about 5 minutes, until the broccoli is tender. Drain well and place in the prepared baking dish.

In a small saucepan, melt the butter over medium heat. Add the flour and whisk until the flour has been absorbed and the mixture turns light yellow with large dry bubbles. Add the evaporated milk, salt, and pepper and cook, whisking, until the sauce is thick and coats the back of a spoon, about 3 minutes. Add the Swiss cheese and sour cream and stir until the cheese has melted.

Pour the sauce over the broccoli in the baking dish and stir gently. Mix the cheddar cheese, paprika, and crackers and top the casserole in an even layer. Bake for about 40 minutes, until bubbling and the top is golden brown. Slice and serve.
Your Recently Viewed Recipes