18 Delicious Make Ahead Casseroles
Finding time to cook a tasty and nutritious dinner during the week can sometimes be challenging. If you're short on time, try preparing some make ahead recipes. Check out these 18 Delicious Make Ahead Casseroles for some great, easy dinner ideas! Casseroles are always an easy dish to prepare for dinner, but imagine how much easier they will become when you make them ahead of time! All you do is prepare the majority of the dish the day before and finish it off the next day when you're just about ready to eat.
You'll be amazed at how simple these meals are to make, and you'll also love how much time they save when you have a busy night planned! Take a look at these easy make ahead breakfast casseroles and these easy casserole recipes for dinner. Simplify your life with these 18 Delicious Make Ahead Casseroles!
Table of Contents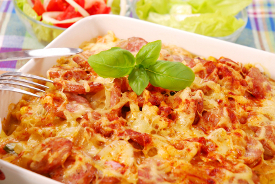 Preparing an extravagant morning meal right after rolling out of bed can sound daunting, especially If you don't consider yourself much of a morning person. Take a look at some of these delicious make ahead breakfast casseroles. They will make your mornings much more enjoyable!
Because these dishes are prepared the night before, these they require little attention while you sip your coffee and wake up; all you need to do it pop them in the oven! It's easy to eat a tasty breakfast when most of the work is done ahead of time. Check out all of the different make ahead breakfast casseroles we have to offer!
Make Ahead Meat and Veggie Breakfast Casserole

French Bread Breakfast Cassrole

Mary's Make Ahead Ham and Egg Casserole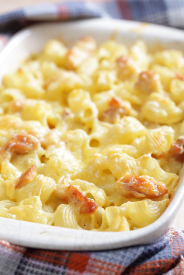 Dinnertime can sneak up on you, especially if you're a working parent juggling multiple schedules and various responsibilites. It's important to eat a well-balanced meal, but this can sometimes move lower and lower on the priority list if you're too busy to find time even to cook. If you're searching for a way to eat nutitious, balanced meals during the week, make ahead casseroles are the perfect solution. From easy vegetable casseroles to comfort casserole recipes, there's plenty of different make ahead casseroles to choose from!
Not only are these make ahead casseroles delicious, but you will love how much time they save you. It's amazing what you can get done when when you're not slaving away in the kitchen all night! These award winning casserole recipes will allow you to focus on the more important things in life, like helping your kids with their homework or finally catching up on that book you've been meaning to read. Try one of these yummy make ahead casseroles tonight!
Overnight Ham & Macaroni Casserole

Make Ahead Creamy Rice Casserole

Delicious Beef or Chicken Enchilada Casserole

Overnight Tomato Zucchini Lasagna Casserole

Crazy Easy Carrot Apple Casserole

Brenda's Butternut Apple Casserole

Your Recently Viewed Recipes
Join our community of 5 million cooks!
Get free recipes, exclusive partner offers, and more.
Thank You for Signing Up!
There was an issue signing you up. Please check your email address, and try again.