Spiced Tomato Soup Cancakes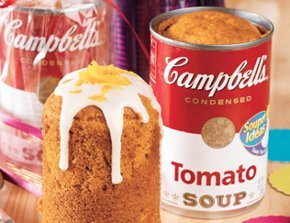 These whimsical mini cakes are made with tomato soup, which may sound a little weird to you, but truly makes for one of the moistest cake recipes out there. Cute and delicious, the Spiced Tomato Soup Cancakes are then topped with an orange icing that brings it all together. Great to bring to parties or just to serve to your family so everyone has their individual mini cake, these are incredibly delicious.
Ingredients
Vegetable cooking spray
2 cups all-purpose flour
1

1

/

3

cup sugar
2 teaspoons baking powder
1

1

/

2

teaspoon ground allspice
1 teaspoon ground cinnamon

1

/

2

teaspoon baking soda

1

/

2

teaspoon ground cloves
1 can (10.75-ounces) Campbell's® Condensed Tomato Soup

1

/

2

cup vegetable shortening
2 eggs

1

/

4

cup water
For the Orange Icing:
1 cup confectioners' sugar
2 tablespoons orange juice
1 teaspoon grated orange grind
Instructions
Preheat the oven to 350 degrees F. Spray 7 empty Campbell's (10 3/4 ounces) soup cans with the cooking spray.

Stir the flour, sugar, baking powder, allspice, cinnamon, baking soda and cloves in a medium bowl.

Add the soup, shortening, eggs and water. Beat until mixed, using an electric mixer at low speed. Spoon into the prepared cans and place them on a baking sheet.

Bake for 30 minutes or until a toothpick inserted in the center of a cake comes out clean. Cool in the cans on wire racks. Remove the cakes from the cans.

Drizzle the tops and sides of the cakes with Orange Icing. Top with orange zest, chopped nuts or red candied cherries cut in "leaves".

Mix everything in a small bowl until it's smooth.
Your Recently Viewed Recipes