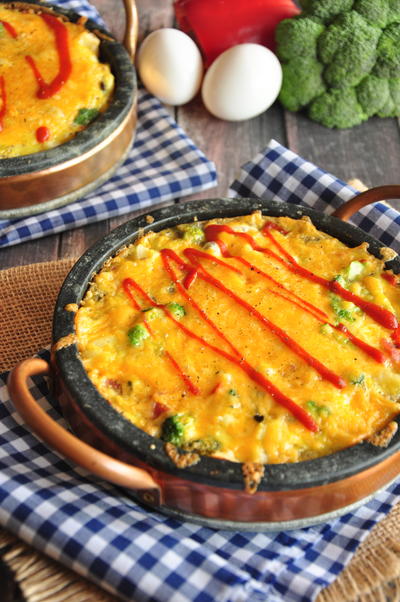 Oven to Table Frittata
"Try this easy frittata (open-face omelette) for a special breakfast or a weekend brunch. It's enriched with vegetables, turkey ham and cheddar cheese. A casserole for one just got fancy."
Serves2
Ingredients
2 tablespoons Onion, diced
2 tablespoons red bell pepper, diced
1 cup broccoli, cut into small florets
1 cup mushroom, sliced
1 cup turkey ham, sliced
1 cup frozen diced hash brown potatoes, thawed
3 eggs, beaten
1 teaspoon sea salt
1 teaspoon ground black pepper
1 teaspoon dried tarragon
1 tablespoon butter or olive oil
1/4 cup shredded cheddar cheese
Sriracha or ketchup (optional)
Instructions
Chop onion, red bell pepper, broccoli, mushroom and set them aside all together. Dice turkey ham and set aside with hash brown potatoes.

Whisk eggs with salt, pepper and tarragon and set aside.

In a 6-inch soapstone sauté pan or cast iron skillet, melt butter over medium heat. Add onion, bell pepper, broccoli and mushroom; cook for 4-5 minutes or until the vegetables are tender.

Add turkey ham and potatoes; cook for another 2 minutes, stirring often.

Pour egg mixture into the pan; switch to low heat and let it cook for 8-10 minutes or until the egg is about to set.

Remove from heat; sprinkle with cheddar cheese and bake for 5-7 minutes, uncovered.

Drizzle with Sriracha and serve immediately.
Your Recently Viewed Recipes