Healthy Freezer Breakfast Sandwiches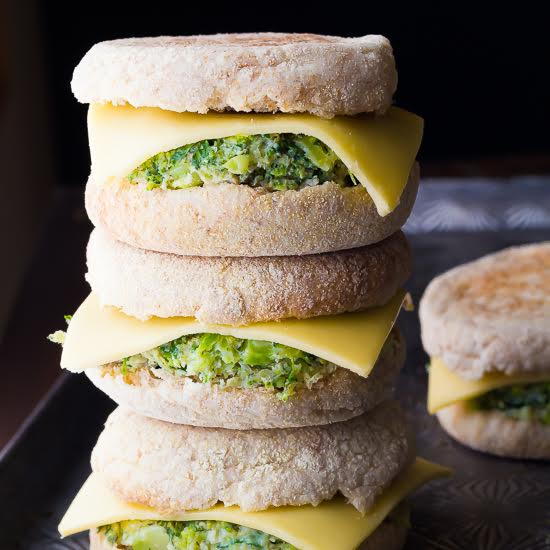 Healthy Freezer Breakfast Sandwiches
"Make your own healthy freezer breakfast sandwiches! These guys are full of veggies, but are still totally satisfying! I have only just discovered that breakfast sandwiches don't have to come from a drive-thru and they also don't have to be full of processed ingredients. Say what?! So friend, how easy are these freezer breakfast sandwiches to make? Beat together your eggs, milk, salt, feta, and veggies. For the sandwiches pictured, I used broccoli & spinach. Bake up for 20-25 minutes. Cool. Eating one of these beauties was a pretty awesome way to start my week."
NotesStorage Instructions
Wrap each sandwich in a small ziplock bag, and store in the fridge (up to 4 days) or in the freezer (up to 3 months)
Re-heating instructions:
Thaw overnight in the fridge (if frozen).
Heat in the microwave for 30 seconds to heat through.
Crisp up in the frying pan or on a George Foreman grill.
Serves4 People
Ingredients
6 eachs eggs
1 cup milk
1 teaspoon salt
1 cup feta, crumbled
1 cup spinach, chopped (loosely packed)
1 cup broccoli, chopped finely
4 slices havarti (or mozzarella)
4 eachs whole wheat english muffins
Spray a 8x8 inch baking dish with spray oil and set aside.

In a large bowl, beat the eggs and milk together. Fold in the spinach, broccoli, salt and feta. Pour the egg mixture into the baking dish.

Bake for 20-25 minutes or until cooked through (center should not jiggle).

Allow to cool completely, then cut into 4 circles (using a glass or measuring cup) or into 4 squares.

Assemble the sandwiches: one serving of egg with a slice of cheese between the english muffin.
Your Recently Viewed Recipes