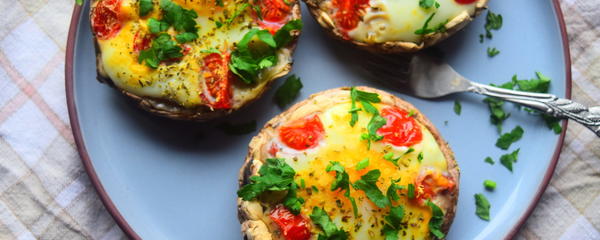 Baked Mushroom Egg
"Baked Mushroom & Egg - This baked egg in a portobello mushroom makes a fantastic healthy breakfast. It's so easy to make, delicious and really nourishing too. We've added a sprinkle of nutritional yeast to the top of my mushrooms, which gives a similar taste to cheese (but it's far more nutritious). It's important to heat the mushrooms in the grill first as this will prevent them from going soggy. This recipe is suitable for people who are on specifics diets such as gluten free and vegetarian."
NotesSee more recipes here - http://www.mynutricounter.com/
Serves3 People
Ingredients
3 portobello mushrooms
3 eggs
6 piccolino tomatoes
1 tablespoon fresh parsley, chopped
1 teaspoon mixed herbs
1 teaspoon nutritional yeast
Place the mushrooms in the grill and heat for 5 minutes on each side. Remove from the grill and set the oven to 200C/390F.

When the oven is ready - break the eggs into the centre of each mushroom, then drop in the piccolino tomatoes and sprinkle the mixed herbs and nutritional yeast on top.

Bake for 15 minutes, then garnish with fresh parsley.
Your Recently Viewed Recipes