Appam Or Sri Lankan Hoppers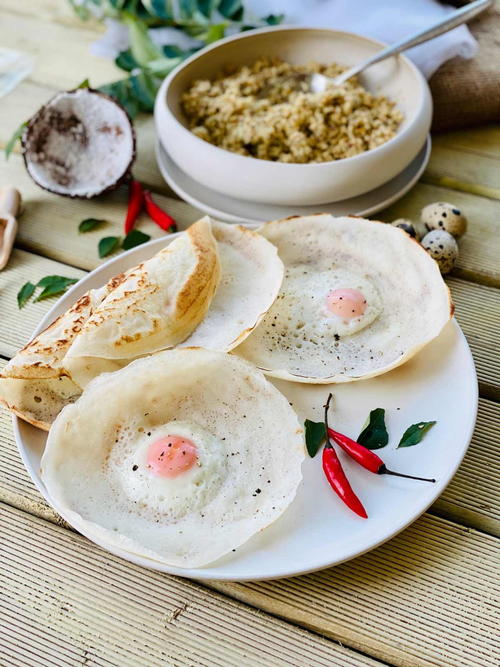 Appam Or Sri Lankan Hoppers
"Mmmmm, look at these beauties! Since it is Valentine's Day today – Happy Valentine's to you all! Will be making these Sri Lankan hoppers again tomorrow morning to treat the whole crowd around this household – weekend treats are the best! These Sri Lankan hoppers are just soo good, they are made with fermented rice flour or raw rice, coconut milk and a few more ingredients. Nutritious and super delicious. The perfect breakfast if you ask me. "
Notes* salt – don't add too much in the batter so you can add some more when making them. I love a little salt and pepper regardless whether you add the egg in the center or not.
* There is a secret behind why I use quail eggs and not regular chicken eggs. The simple secret is because I want to have more than two pancakes. Ha ha. I could not stop and have just two. I can't have more than two regular eggs but I can easily have four quail eggs. This is if I have no other dishes to serve it with.I prefer eggs only if I have these at breakfast but I make them simple too to have with a nice potato and cauliflower curry or a dhal or any meat curry. Oh my! I'm drooling already.
* eggs – If you don't have quail eggs use any small chicken eggs.
* the raw rice can be mixed regular white and brown rice. Sometimes I add a handful of mung beans too for extra goodness. I use lukewarm water but that's not necessary.
* if you want to replace the yeast just add 1 levelled tsp soda bicarbonate. If you don't have yeast, use 100 ml beer which is a small glass. Just add to the batter.
Serves4
Ingredients
2 cups rice raw soaked in lukewarm water *
1 cup cooked rice leftover or freshly cooked
1 cup of coconut milk or fresh ground one
1 tsp yeast fresh or active dry *
8 eggs I use quail eggs almost always *
1/4 tsp salt or less *
1 tbsp sugar
Instruction
Pre task – soak the raw rice in lukewarm water for about 3 hours or longer. If you don't have any cooked rice boil some now. Boil approximately 50g rice.

In a mug combine the yeast with the sugar in warm water and allow it to rest until it's beginning to bubble up. This should be approximately 10 minutes.

Using a food processor whizz the cooked rice and the coconut milk or the fresh coconut and add a little water until it becomes a thick batter.

Add the salt, the yeast mixture to the rice and whizz continuously until all combined.

Take a glass bowl out and transfer the batter. Cover with a lid or clingfilm and it to ferment. Ideally overnight. 6-8 hours.

The batter should be runny but not too watery so adjust its consistency by adding more water and/or some more coconut milk.

Pour the batter in a jug or a smoothie bottle ( I find it easier to handle).

Place the appam pan or the appachetty on fire, when this is slightly hot pour in some batter (the amount or quantity of a small ladle). Move the pan in a circular motion so that the batter is spread around on the edges as high as this permits.

Add an egg in the centre (the batter is thicker but don't worry, it's as it should be) and cook for about 2 minutes covered. Cook until the egg it's cooked. This can be made hard or left soft depending on preferences.

Serve while hot with sambol, chutney, any curry or a nice dhal.
Your Recently Viewed Recipes
Join our community of 5 million cooks!
Get free recipes, exclusive partner offers, and more.
Thank You for Signing Up!
There was an issue signing you up. Please check your email address, and try again.