8 Recipes for Homemade Hummus
Hummus is a creamy, delicious middle eastern dipping spread, made popular in the vegetarian world, but ever relevant for the everyday eater! If you've wanted to steer from the traditional hummus recipe, this list has 8 variations, including a recipe for roasted red pepper hummus!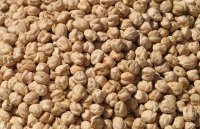 Table of Contents:
Featured Article - Red Pepper Hummus with Roasted Garlic
What is Hummus?
Using Hummus on Everyday Foods
Our Favorite Hummus Recipes
Featured Article - Red Pepper Hummus with Roasted Garlic

Red Pepper Hummus with Roasted Garlic is a hot item at every grocery store. Learn how to make your own with this free recipe for delicious hummus. Serve it at your next gathering or for a casual lunch at home.

Ingredients:
1 head garlic
4 tablespoon water
1/2 teaspoon olive oil
1/2 cup Roasted Red Peppers , chopped
1 can garbanzo beans (15 oz), reserve liquid
2 tablespoon sun-dried tomatoes, chopped
1 tablespoon lemon juice
2 tablespoon Tahini
Instructions:
1. Preheat oven to 375 degrees F.

2. Cut 1/4" off the top of the garlic head, exposing as many individual cloves as possible.

3. Put the garlic in a small baking dish (root end down) with the liquid.

4. Scatter the dried tomatoes on the bottom to soak up the liquid.

5. Drizzle the exposed garlic cloves with olive oil. Cover tightly with foil and bake for approx. 20 minutes.

6. Remove the foil and roast until soft, 5 to 10 minutes more. Remove from oven and cool.

7. Remove the individual garlic cloves with a toothpick or fork, and add half the cloves to a food processor or blender, on top of the roasted peppers.

8. Place the other half of the garlic cloves in a freezer ziplock and reserve for another time.

9. Puree until smooth.

10. Add the garbanzo beans and 3 Tbsp. of the garbanzo liquid, the chopped sun-dried tomatoes, lemon juice, and tahini. Puree until smooth.

11. Makes 7-1/4 cup servings, or 1 3/4 cups.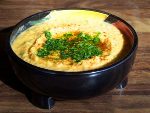 The basic ingredients for hummus are chickpeas, tahini (sesame paste), olive oil, salt and garlic, which can be found in the Mediterranean and Middle Eastern regions where this dish originated. Hummus bi Tahini literally means chickpeas with sesame paste and is the standard hummus recipe out there.
The Arabic word, Hummus has also been spelled hamos, houmous, hommos, hummos, hummous and humus and is popular in many countries throughout the Middle East. Greece and other Mediterranean countries are known to have a slightly different take on the hummus recipe.
Nonetheless, hummus is a vegetarian-friendly dish that is loved by vegeterians and meat-lovers alike. It is high in iron and vitamin C and pairs well with pita and raw vegetables. Some people put it on sandwiches in place of mayonnaise, or on toast in place of butter.
Using Hummus on Everyday Foods - Hummus Club Sandwiches
This sandwich is a vegetarian's delight! Fresh middle-eastern flavors of hummus and crisp produce between two whole-wheat slices of bread make for a fantastic and healthy lunch!
Yields: 4

Ingredients:
3 tablespoon plain fat-free yogurt
2 tablespoon water
1 tablespoon lemon juice
1 tablespoon tahini (sesame-seed paste)
1/2 teaspoon ground cumin
1/4 teaspoon salt
2 garlic cloves, peeled
1 can (15.5 oz) chickpeas, drained
12 slices whole-wheat bread
2 cup shredded Bibb lettuce
8 slices tomato
4 slices red onion
1 cup cucumber, sliced
4 cup alfalfa sprouts
Instructions
1. Combine first 8 ingredients in a food processor; process until smooth.

2. Spread 2 tablespoons hummus over 1 bread slice.

3. Top with 1/2 cup lettuce, 2 tomato slices, 1 onion slice, 1 bread slice, 1/4 cup cucumber, 1 cup sprouts, and 1 bread slice.

4. Cut sandwich diagonally into quarters; secure with wooden picks. Repeat procedure with remaining ingredients.

Hummus Bi Tahini - This is a quick and easy recipe for middle eastern hummus! Tahini in the recipe makes for an extra creamy hummus dip. Enjoy this vegetarian side dish with veggies and lots of pita!
Carrot Hummus - Spice up your hummus recipes with fresh vegetables like carrots.
Black Bean and Garbanzo Hummus - Hummus with a twist of black beans! A true afternoon delight.
Habanero Hummus - This is a truly spicy rendition of traditional middle eastern hummus. When we say hot, we mean hot.
Soybean Hummus - This hummus recipe that calls for soybeans instead of garbanzos. With the hints of soy sauce and parsley, this Asian style appetizer is fresh and delicous!
Black Bean Hummus - This special variation on hummus calls for black beans instead of the traditional garbanzo beans. This delicious appetizer takes a hint of Mexican flavors with the cilantro in the mix.

Your Recently Viewed Recipes
Join our community of 5 million cooks!
Get free recipes, exclusive partner offers, and more.
Thank You for Signing Up!
There was an issue signing you up. Please check your email address, and try again.