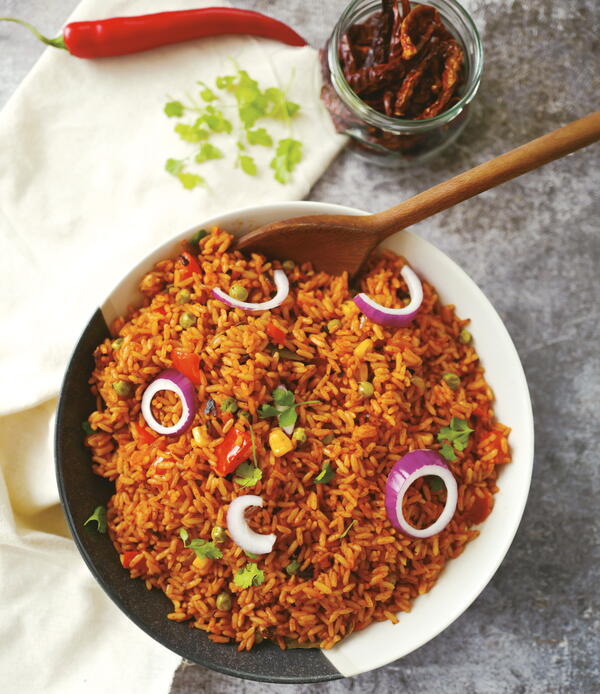 Fiery Jollof Rice
No party in Africa is complete without this spicy rice dish, simmered in an aromatic blend of onions, tomatoes and peppers. Ghana and Nigeria make the two most popular varieties of jollof rice. Ghanaians use fragrant basmati rice while Nigerians use sturdier long-grain rice, which is better at absorbing flavors from the tomato stew base. The recipe below is inspired by the Ghanaian jollof.

Traditionally, the recipe features a ton of scotch bonnet peppers, giving you a fantastically flavorsome yet extremely hot dish. Thankfully, the dish also works with fewer scotch bonnets or even milder red chilies to taste.

Jollof rice definitely takes a bit of love and care, but using the rice cooker means that you don't have to worry about it burning, and washing up after cooking will be easy.
 
Yields4 servings
Ingredients
For the Tomato Puree
1 tablespoon (15 ml) palm oil
1 cup (160 g) chopped yellow onions
1 teaspoon salt
1 teaspoon curry powder
1 teaspoon smoked paprika
2 tablespoons (17 g) chopped garlic
2 teaspoons (5 g) chopped fresh ginger
1–2 scotch bonnet chilies, seeded and chopped (add more/less to your taste)
1 (6-oz [170-g]) can tomato paste
12 oz (340 g) canned diced tomatoes

For the Rice

1

/

4

cup (60 ml) olive oil

1

/

4

cup (40 g) chopped red onions
2 teaspoons (5 g) minced garlic
1 teaspoon grated fresh ginger
3 oz (85 g) red bell pepper, diced
2 cups (400 g) jasmine rice, rinsed and drained

1

/

2

cup (70 g) frozen peas

1

/

3

cup (55 g) canned sweet corn, drained

1

/

2

cup (65 g) finely diced carrots
1 tablespoon (6 g) curry powder

1

/

2

tablespoon (4 g) smoked sweet paprika
1 teaspoon dried thyme
1 teaspoon kosher salt
1 teaspoon freshly ground black pepper
1 bay leaf
1

1

/

2

cup (360 ml) water, plus more if needed
Fresh coriander and sliced red onions, to serve
Directions
To make the tomato puree, turn on the rice cooker and allow it to preheat by setting it to Cook and covering it with the lid. Once it has heated up, which should take 1 to 2 minutes, remove the lid, add the palm oil and put the lid back on. Let the oil heat up for a minute.
 

Add in the onions and season them with salt, curry powder and smoked paprika. Sauté them for a minute and then add the lid. Fry for 4 to 5 minutes, or until the onions become translucent. Next, add the garlic, ginger and chilies and cook for another 2 to 3 minutes, or until they are fragrant.
 

Now add the tomato paste and mix it in well. Cover and cook for another 4 to 5 minutes. Then turn the rice cooker off. Let the mixture cool slightly, and then transfer all the ingredients to a blender along with the diced tomatoes. Blend until the mixture is smooth then set it aside.
 

To make the jollof rice, turn the rice cooker back on. In the rice cooker pot, heat the olive oil with the lid on and with the device set to Cook. The oil should take a minute to heat up. Once it's shimmering, add in the onions, garlic and ginger. Cover and cook for 5 to 6 minutes, or until they're slightly browned. Stir midway through. Now add the bell pepper and cook for another 3 to 4 minutes with the lid on.
 

Remove the lid. Then toss in the rice, peas, sweet corn, carrots, curry powder, paprika, thyme, salt and pepper. Stir for 3 to 4 minutes until the rice is fragrant. Add in the bay leaf and water. Cover and cook for 15 to 20 minutes, stirring midway through. Once most of the liquid has been absorbed, pour in the prepared tomato puree and cook, with the lid back on, until the rice is tender, which should take 10 to 12 minutes.
 

If the rice looks too dry, feel free to add an additional ½ cup (120 ml) of water and stir it in. Change the rice cooker mode to Warm and let the rice sit for at least 5 minutes, or until you're ready to serve it. Remove the bay leaf and fluff the rice before serving it garnished with fresh coriander and sliced onions.
 
Your Recently Viewed Recipes