German Chocolate Ice Cream Pie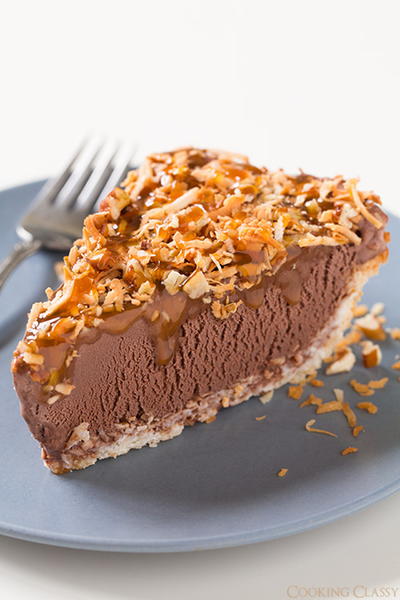 German Chocolate Ice Cream Pie
This German Chocolate Ice Cream Pie is a chocolate lover's dream. It's a perfect frozen dessert for any occasion but especially for the Christmas season. Something that looks and tastes this good has to take hours to make, right? Not with this easy dessert recipe! This ice cream pie only has 5 ingredients and just needs to sit in the freezer long enough until the ice cream is solid again. You can whip up this chocolate dessert right before your party guests arrive so it will be ready by the time dessert is served.
Yields12 servings
Cooking Vessel Size9-inch pie plate
Did You Know?
This ice cream pie recipe is a frozen twist on the famous German chocolate cake. But, do you know where the classic decadent confection originated from?

Contrary to popular belief, German chocolate cake is not a German dessert. In fact, it's actually from the United States. In 1957, a Dallas, Texas, newspaper published the first recipe for "German's Chocolate Cake," created by Mrs. George Clay. She took the name from a dark baking chocolate that was invented by Samuel German in 1852. Samuel was an American who worked for Baker's Chocolate Company. His dark chocolate had much more sugar in it than the other kinds that the company was selling at the time. The company bought the recipe from Samuel and sold it as "Baker's German's Sweet Chocolate."

So, the namesake for German chocolate cake comes from a New Englander, but the recipe is credited to a Texan. After Mrs. George Clay's recipe was published, sales of German's Sweet Chocolate increased by up to 73%. Readers around the country requested that their newspapers also print the recipe so they could make the delicious cake. Over the years, the apostrophe-s has been dropped from the recipe name, leading to the confusion of its origin. The name may have had a slight change, but the iconic German chocolate cake recipe still calls for chocolate, caramel, pecans, and coconut.

The cake is so famous that June 11 is designated as National German Chocolate Cake Day in America. Celebrate the chocolatier and the housewife anytime of the year by making the iconic cake. Or, cool off this summer when you whip up this frozen version of German chocolate cake.
Your Recently Viewed Recipes