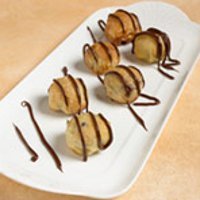 These Candy Bar Puffs from Campbell's Kitchen make a great last-minute dessert if you're headed to a party. Candy bar-flavored pastry puffs drizzled with melted chocolate are always a crowd pleaser! So if you're looking for quick and easy dessert recipes that taste as good as they look, try these tempting treats!
Notes

Make-Ahead Tip:

These puffs can be baked and stored in the freezer for up to 2 months. Handle carefully because the frozen puffs can be fragile.

Find more unique dessert recipes in this recipe collection from Campbell's Kitchen.
Makes48
Ingredients
1 package (17.3 ounces) Pepperidge Farm® Puff Pastry Sheets (2 sheets), thawed
48 bite-size candy bars (like Milky Way®, Snickers® or 3 Musketeers®)
2 ounces candy melts (milk, dark or white chocolate)
Instructions
Preheat the oven to 400 degrees F. Place mini baking cups into 48 (1 1/2-inch) mini muffin-pan cups.

Unfold the pastry sheets on a lightly floured surface. Roll each pastry sheet into a 10-inch square. Cut each pastry square into 25 (2-inch) squares, making 50 pastry squares in all. You will only need 48 pastry squares for this recipe. Discard the remaining squares or reserve for another use.

Brush the edges of the 48 pastry squares with water. Place 1 candy bar, top-side down, in the center of each pastry square. Fold the corners up over the filling to the center and press to seal. Place 1 filled pastry, seam-side down, into each lined muffin-pan cup.

Bake for 10 minutes or until the puffs are golden brown. Let cool in the pan for 5 minutes. Remove the puffs from the pan and cool on wire racks.

Melt the candy melts according to the package directions. Drizzle over the puffs.
Your Recently Viewed Recipes