Spaghetti & Meatballs-ish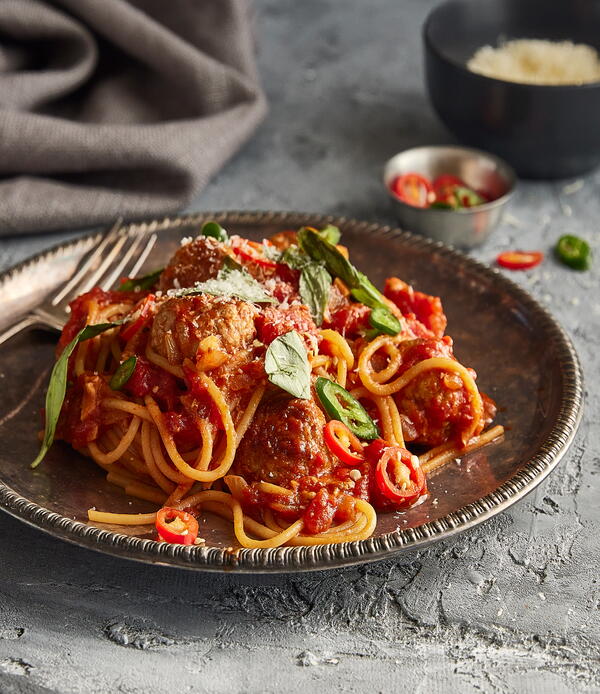 Spaghetti Meatballs-ish
Just as Italians meld anchovies into their sauces to boost the savouriness, the umami, the depth of flavour, Mum was always looking for ways to inject more deliciousness into her food. When my brother and I asked for spaghetti and meatballs for the first time, probably after seeing it on an American sitcom on the telly, Mum's response was to shake a drizzle of fish sauce into the pork mixture and drop a spoonful of miso into the bubbling tomato sauce. Though you can taste hints of the miso every now and again, you really wouldn't be able to "name that flavour" unless you knew it had been added. Mum's meatballs were definitely a lot crumblier and drier the first time she made them. Since then, I've learnt to add breadcrumbs or panko, Parmigiano-Reggiano, onion, egg and use a higher fat percentage of pork. These ingredients help create more tender, juicy meatballs.

Total time: 30 minutes
Makes4 servings
Ingredients
SPAGHETTI AND MEATBALLS
1 large brown onion
4 cloves garlic, finely minced
500 grams (17.5 oz) pork mince (ground pork, minimum 20% fat)
1 large egg

1

/

2

AUS cup or 31 g or ½ US cup + 1 tsp panko

1

/

4

AUS cup or 16 g or ¼ US cup + ½ tsp fresh parsley, finely chopped

1

/

4

AUS cup or 26 g or ¼ US cup + ½ tsp freshly grated Parmigiano-Reggiano

1

/

2

teaspoon salt, plus more if needed
1 AUS tbsp or 20 ml or 4 tsp fish sauce
1 teaspoon freshly ground black pepper
2 AUS tbsp or 40 ml or 2 US tbsp + 2 tsp olive oil
500 grams (18 oz) uncooked spaghetti

SAUCE
4 AUS tbsp or 80 ml or ⅓ US cup olive oil
1 small onion (brown, white or yellow)
4 cloves garlic, minced
10 milliliters (2 tsp) miso (red or white)
2 AUS tbsp or 40 ml or 2 US tbsp + 2 tsp tomato paste
800 grams (28 oz) canned whole peeled Italian tomatoes

1

/

4

AUS cup or 16 g or ¼ US cup + ½ tsp chopped fresh parsley
Fish Sauce (Optional)

SERVING
Fresh red or green serrano chillies, thinly sliced
Fresh green basil, torn
Fresh parsley, finely chopped
Parmigiano-Reggiano
DIRECTIONS
Begin with the meatballs. In a food processor, blitz the onion and garlic until coarsely puréed. Alternatively, use a box grater to grate the onion and finely mince the garlic. Transfer to a large mixing bowl.
 

Add the pork mince, egg, panko, parsley, Parmigiano-Reggiano, ½ teaspoon of salt, fish sauce and black pepper. Use your hands to mix vigorously until all the ingredients are fully incorporated. This will take approximately 2 to 3 minutes of consistent mixing and kneading. The mixture should be uniform and the mince should appear tacky and blended, not crumbly.
 

Take a heaped AUS tablespoon (about 25 ml or 1 US tablespoon + 2 teaspoons) of the meatball mixture and roll it into a tight ball. Repeat with all the mince.
 

Heat the olive oil in a large, non-stick frying pan over medium-high heat. Once hot, add the meatballs and cook for 3 to 4 minutes, rotating them occasionally to brown all over.
 

While the meatballs cook, bring a large pot of water to a boil over medium-high heat. Add two large pinches of salt to the boiling water, stir it, then add the spaghetti. Cook for 6 to 7 minutes. Do not drain. While the spaghetti is cooking, remove the cooked meatballs from the pan and set aside.
 
TIP:
The more you work the mince by kneading it, the more bouncy or tough the meatball will be. But if you don't knead and mix the mince enough, the mixture will be uneven and crumblier.

Next, prepare the sauce. Add the olive oil to the pan the meatballs had been cooked in, still over medium-high heat. Once hot, sauté the onion and garlic for 2 to 3 minutes, or until beginning to brown. Next, add the miso and tomato paste. Sauté for a further 2 to 3 minutes. Then, add the tomatoes and parsley, using a spatula or spoon to chop or squash them roughly. Stir well to incorporate.

Place the meatballs into the sauce. Then, using tongs or a spaghetti fork/server, transfer the spaghetti directly from the cooking water into the sauce, along with about ½ AUS cup (125 ml or ½ US cup + 1 teaspoon) of the pasta water. Stir and toss the pasta and meatballs together to emulsify and mix the sauce thoroughly. Once combined, taste for seasoning. If more salt is needed, season with fish sauce (if using) or salt.

Serve the pasta with extra chillies, basil, parsley and grated Parmigiano-Reggiano.
Credit:
Reprinted with permission from Sarah Tiong's Modern Asian by Sarah Tiong. Page Street Publishing Co. 2023. Photo credit: Ben Cole.
Your Recently Viewed Recipes
Join our community of 5 million cooks!
Get free recipes, exclusive partner offers, and more.
Thank You for Signing Up!
There was an issue signing you up. Please check your email address, and try again.