Our 10 Favorite Whole30 Recipes
Start the new year off right with these outstanding whole30 recipes that don't skimp on flavor!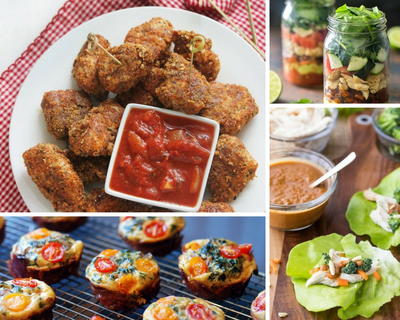 Whether you are following the Whole30 diet, or just want to see what this health craze is all about, you can't go wrong with 10 of our favorite Whole30 recipes from around the web. 

"New year, new me" is a phrase often thrown around in January. Whether that means healthier eating, working out, or simply drinking more water and getting more sleep, forming healthy habits for life is never a bad idea.

The Whole30 diet is a great way to kick-start yourself toward a healthier and happier life because it helps you learn how to control bad cravings and choose better options. Rethinking the way you make choices is something that can translate into all aspects of your life -- not just when it comes to eating -- and who can't get behind making better choices?

Enjoy these simple, healthy, and clean recipes, and let us know what you think about the Whole30 diet in the comments below!
Table of Contents
Our 10 Favorite Whole30 Recipes from Healthy Bloggers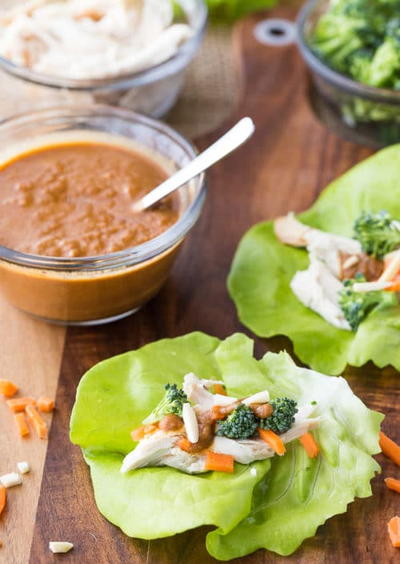 Whole30 Recipes on RecipeLion
The recipes in this section are from our site and are compliant with Whole30 regulations. Please enjoy these tasty healthy recipes and good luck on your journey to becoming a healthier you!
Side dishes don't always have to be full of carbs and empty calories! This Skillet Mushroom Asparagus is big in flavor and small in fat and calories!
The Beef Stir fry with Assorted Veggies in Ginger is 100% Whole30 approved. Use Tamari instead of regular soy sauce for a gluten-free version and use coconut aminos for a paleo version.
Summery Strawberry Chicken Salad
The sweet and savory mixture of strawberries and spice-rubbed chicken satisfies every taste bud. Plus, this dish is so quick and easy! 
Why Try Whole30?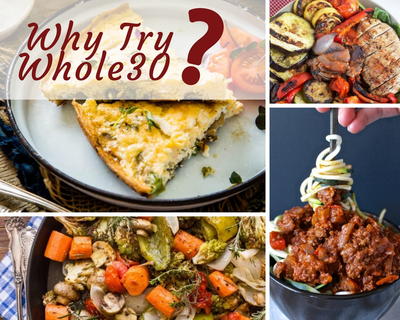 A few of the editors in the RecipeLion office are currently doing the Whole30 diet for the month of January. We thought it would be helpful for those of you on the fence about trying this diet to hear more about it from people with experience. Overall, it sounds like a great way to kick-start some healthy habits for the New Year! To learn even more about all the rules of this plan, check out the Whole30 website.


     "At some point amidst all of my holiday snacking and food-binging in the final weeks of December, I realized how terrible my eating habits are. I overeat when I'm bored, and I always seem to gravitate toward the most unhealthy processed foods in my pantry. At some point, I lost my taste for fresh, healthy food, and my body is starting to show it.
     Two of my friends who had completed a Whole 30 month had actually encouraged me to try this; they affirmed that it really causes you to reevaluate your diet and helps to reset your unhealthy cravings. What I really love about this so far is that I'm eating out much less, learning how to cook things in healthier ways, and getting a taste for foods I never really liked before." -- Kristina Kittleson, editor, Prime Publishing
--
     "Whole 30 is a feel-good diet. What I love about Whole 30 is that the food I am putting in my body feels good for me. The diet eliminates chemicals and "junky" snacks and after just a few days you can feel the difference! You do not have to worry about portion control or time of day, you can eat and enjoy fruits, vegetables, and proteins whenever you want and magically you will shed weight! After having a baby and eating ice cream every night, this is a great way to jumpstart a new and healthy lifestyle." -- Addie Gundry, of Easy Elegant Entertaining and RecipeLion's own cookbook author
--
     "I made the decision to do January Whole30 because I wanted to do something to get my body back into the rhythm of eating healthy. Sure, weight loss is an added benefit of this diet, but the goal for me is to simply retrain myself to make smart and healthy choices after an over-indulgent holiday season.
     I generally enjoy many of the compliant foods already (chicken, vegetables, eggs, avocados, etc.), so it's not that hard to follow. It's more about retraining my body to crave those items instead of other items, and the guidelines and structure that the Whole30 provides help keep me accountable while these smart eating decisions develop into habits. " -- Jenny Bowden, editorial manager, Prime Publishing
Quick Facts: What Can I Eat on the Whole30 Diet?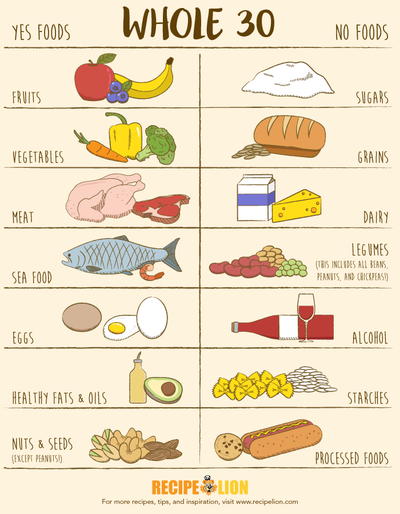 The hardest part of any diet is sticking to it for an extended period of time, am I right? It's easy to get an idea in our heads about changing our lifestyle for the better and completely abandon it in a moment of weakness. Whole30 aims to help its participants form healthier habits during a 30-day period so our go-to stress food becomes apple slices, for instance, instead of french fries.

Here we've visually outlined the "yes" and "no" foods associated with the Whole30 diet. Below, you'll find some more details.

1. Sugar: Natural sugar found in such things as fruits is fine. Do not consume anything with added sugar.
2. Processed foods: Steer clear of anything processed and all foods with additives and preservatives.
3. Nuts: You can have all the nuts you want with the exception of peanuts, which are actually classified as legumes (all legumes are not part of the Whole30 diet).
4. Dairy: Noooo. Use ghee as a butter substitute.
5. "Junk foods": Do not try to recreate your favorite snacks by substituting Whole30-approved ingredients. For example, making pizza crust with cauliflower or baked potato chips (since potatoes are allowed) might sound delicious, but since this diet is about changing habits, you should attempt to make your brain crave cauliflower instead of pizza, for instance.
6. Coffee: Goodbye, morning caffeine buzz. You will be missed.
7. Alcohol: None. Nada. Zilch.

Pro Tip: Check the label on everything you buy and consume during your Whole30 journey.
Have you tried the Whole30 diet? What was your experience?
Your Recently Viewed Recipes
Join our community of 5 million cooks!
Get free recipes, exclusive partner offers, and more.
Thank You for Signing Up!
There was an issue signing you up. Please check your email address, and try again.