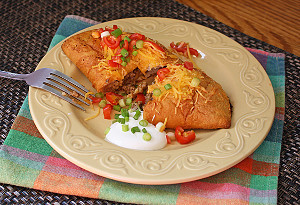 Taco Empanadas
Need a recipe for that store-bought biscuit dough? Taco Empanadas is an easy dinner recipe that uses biscuits instead of traditional empanada dough, so it's super simple to make. The biscuits gets crispy in the oven, just like real empanada dough. Plus, the taco meat and cheese make this dish hearty and filling, so it's perfect for a quick family dinner or a meal on the go. The recipe itself is very basic, so you can add garnishes to the dish according to your own tastes. You'll soon agree that this is the best easy empanada recipe out there.
Ingredients
1 can large refrigerator biscuits

3

/

4

cup refried beans, divided
1 cup shredded Cheddar cheese, divided

3

/

4

cup prepared taco meat, divided
Optional garnishes: chopped tomato, chopped green onion, sour cream
Instructions
Preheat oven to 375 F, and line a baking sheet with aluminum foil.

Flatten a biscuit on the foil using the heel of your hand, starting from the center and working your way outward.

Spread one tablespoon of refried beans onto the flattened biscuit.

Top refried beans with a tablespoon of shredded cheese.

Add a heaping tablespoon of prepared taco meat onto the cheese.

Fold the biscuit by pulling one side up over the other and sealing the edges with your finger. Crimp the edges and poke a few holes in top with a fork.

Drizzle some of the juice from the taco meat over the empanada. Top with another tablespoon of shredded cheese.

Repeat these steps for all empanadas.

Bake in oven for 12 to 15 minutes or until biscuits are golden brown.
Your Recently Viewed Recipes