20 of Our Best Pumpkin & Halloween Recipes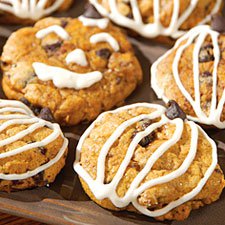 October means different things to different people. For many, it's all about pumpkins, leaves changing to beautiful colors, cooler weather, and all things Halloween. It's also about this time of year that bakers and cookers start scrambling for new and exciting Halloween recipes to enjoy at parties, school events, and home. Kids start craving Halloween recipes and other Autumn food like caramel apples, pumpkin cookies, and other sugary treats. To help get your Halloween and other fall-related parties started the editors of RecipeLion have collected 20 of Our Best Pumpkin & Halloween Recipes. It's time to break out your creative cooking skills, think outside the box, and wow people with these scary good Halloween recipes and pumpkin dishes.
---
For other fall recipe ideas, check out our free eCookbook, 25 Stupidly Easy Recipes for Fall.
---
Table of Contents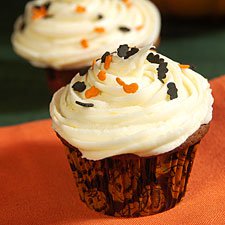 Party Pumpkin Pie — What's a Halloween party without sweet treats? This pumpkin pie recipe is just divine! Mix it up at your next party - instead of serving the usual cake and cookies, bake this delicious pumpkin pie recipe. Your guests will be lining up for seconds for Halloween recipes like this.


Almond Pumpkin Charlotte — This is a rich decadent desserts recipe that all will love. This might be one the most flavorful pumpkin cake recipes you have ever tried. Ladyfinger cookies and whipped cream makes this a visually appealing dessert recipe too.

Pecan Pumpkin Pie — Two classic autumn tastes team up in Pecan Pumpkin Pie. This pie is doubly delicious! A great pie to add to your Halloween recipes menu.

Bisquick Pumpkin Cake — In need of some easy picnic dessert recipes? Try this Bisquick Pumpkin Cake recipe. Homemade Bisquick recipes and very easy dessert recipes are combined in this delicious recipe.

Pumpkin Cupcakes with Orange Cream Cheese Frosting (shown) — For a quick and scrumptious Halloween snack recipe make these Pumpkin Cupcakes with Orange Cream Cheese Frosting. With spiced and sweet flavors that go perfect together this cupcake is to die for.

Perfect Pumpkin Bread — Perfect for making gifts or as a dessert around the holidays, pumpkin dessert Halloween recipes are great! This Perfect Pumpkin Bread is amazing and easy to make.


No-Bake Pumpkin Cheesecake — Make life easier and cook up this simple no-bake pumpkin cheesecake. It's a delicious add to your Halloween recipes menu and party dishes. Plus it's healthy too!
---
If you enjoyed these pumpkin recipes, then you'll love these 55 Awesome Pumpkin Recipes.
---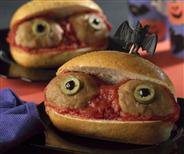 Eyeball Sub (shown) — Halloween recipes can be a blast to make with the family. So get your kids excited and break away from the sweet for a bit with these Eyeball Sub sandwiches. I can't decide if they are cute or creepy but I love them.


Graveyard Sandwich Tray — Wow your guests and family with one of the coolest Halloween recipes you can find. A Graveyard Sandwich Tray, what an idea! It makes a fabulous display and is pretty healthy too.


Halloween Test Tube Shooters — These Halloween Test Tube Shooters are tons of fun to make. This is a great non-alcoholic party drink fun for kids and adults, that you'll be sure to add to your Halloween drink recipes list for several years to come.

Poisoned Apple Wine-tail — Dare your party patrons to give this Poisoned Apple Wine[tail] drink a try. When thinking of recipes for Halloween alcoholic drinks this tempting option should be at the top of your list.


Swamp Juice — This is a great idea for Halloween recipes. This sweet Swamp Juice might look like it came straight from murky water, but your guests are sure to drink up this tasty drink.


Vampire-Repellant Beef Goulash — The goal may be to try and creep out your guests with this creative Vampire-Repellent Beef Goulash, but its delicious flavor will certainly have them coming back for more. This is one of the tastiest Halloween party recipes you can find.


Vampire's Kiss — Time to get into the Halloween spirit and tap into the vampire world with this delicious Vampire's Kiss, a tasty drink. This is one of the easiest Halloween recipes you can find out there with only two ingredients.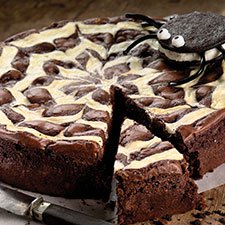 Pumpkin Chocolate Chip Cookie Recipe — For Halloween recipes fun to make each year the perfect choice is this Pumpkin Chocolate Chip Cookie Recipe. With a zesty sweet taste, they go over well with the kiddies and are great for throughout the season.

Munch A Roaches — Making unique Halloween recipes can add some great fun and flavor to any Halloween party or even after school snack. These Munch A Roaches take a creepy, cute approach to the traditional rice crispy treat.

Black Cherry Fruit Bats — Your kids will love these Black Cherry Fruit Bats. A perfect Halloween Snack Recipe to put in their lunches or give out to trick-or-treaters.

Spiderweb Brownies (shown) — The kids or even adults are going to love these Spiderweb Brownies. Delicious all year round but make a wonderful Halloween snack recipe.

Trick or Treat Chocolate Covered Bacon — You must try this sweet and salty unique Halloween snack recipe. Trick or Treat Chocolate Covered Bacon, what a concept! Give it a try, I insist you'll be pleasantly surprised by this unexpected idea.

Granola Bugs — Spark the imaginative side of your kids or party guests with these cute Granola Bugs. Not only do they make great Halloween recipes, they can also be fun after school snacks or go along with lunches.

Your Recently Viewed Recipes
Join our community of 5 million cooks!
Get free recipes, exclusive partner offers, and more.
Thank You for Signing Up!
There was an issue signing you up. Please check your email address, and try again.