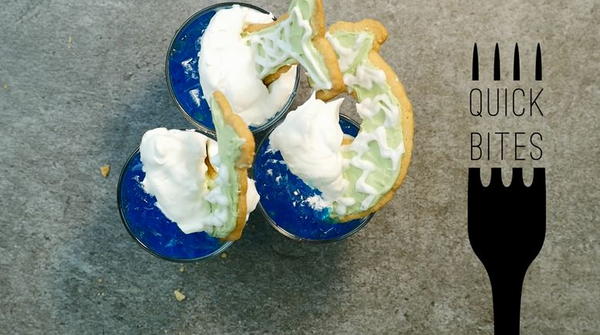 Mermaid Tail Jell-O Cups
These Mermaid Tail Jell-O Cups are a fun and creative way to bring the magic of the ocean to your kitchen. Get your kids involved and put together some fun and tasty Jell-O cups that they'll enjoy making just as much as they enjoy eating. You can make this easy dessert recipe for an "Under The Sea" themed party or just for fun. Either way, these Jell-O cups are sure to make a splash wherever they end up. All you need is a basic, store-bought sugar cookie mix, some food coloring, frosting, Cool Whip, and graham crackers, and you're all set!
Ingredients
1 tube of prepared sugar cookie dough, such as Pillsbury
1 small tub of white frosting
food coloring (of your choice; we used green)
1 package berry blue Jell-O
1 package Cool Whip
1 package graham crackers, crushed
Instructions
Prepare the Jell-O according to the package directions; let it set up in the fridge.

Roll cookie dough out and cut out mermaid-tail shapes.  We did these free hand but you can use a cookie cutter as well.  Bake cookies according to package directions and allow to cool completely.

Divide tub of frosting into 2 small bowls as follows: 1/4 tub for white decorations. Remainder to be dyed the color of your choice (we chose green).

Add frostings to piping bags and snip off the tips. You can use a zip-top bag if you don't have piping bags.

Decorate each cookie as desired and refrigerate to set the frosting.  

In the bottom of each cup, add a layer of graham crackers, making the layer uneven like the ocean floor.

Break Jell-O up in the bowl and carefully spoon into each glass over the graham cracker crumbs. Dollop some Cool-Whip over the top, leaving some blue Jell-O exposed. Press a mermaid tail into each cup and serve immediately.
Your Recently Viewed Recipes