Amazing Jello Fruit Roll Ups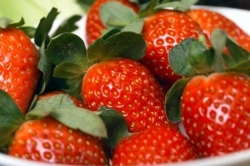 Jello Fruit Roll-Ups aren't just for kids! These are an all-natural healthy snack that you can enjoy too. Even if you don't have a dehydrator you can create this fruity treat.
Ingredients
4 fresh fruit, any kind except bananas
1 envelope unflavored Knox Gelatin
2 tsp. Fruit Fresh for subtle-flavored fruit like apples, melons,
kiwifruit or berries or 2 tsp. lemon juice for stronger flavored
fruit such as peaches, pineapple, or citrus
sugar to taste
Instructions
Without a dehydrator:
Prepare a cookie sheet that has sides on it. Line it with cling wrap that you have sprayed with a light coat of cooking spray. One without sides will work, but can be very messy. Clean your fruit of all stems, pits, and bad spots. Peeling is optional, depending on the fruit (you would want to peel citrus, or pineapple, for example, unless you have a blender).

Puree fruit until it is smooth. There will be lots of pulp, and that is what gives your fruit leather it's texture. Heat the puree over a low temp until it just barely bubbles.

Add your lemon juice or fruit fresh and then your gelatin. Add only enough sugar to taste (I usually don't add any, but to each their own.)

Quickly pour out on the cookie sheet and spread if needed. Let sit in oven overnight. Do not bake. Check in the morning, you are looking for drying at the edges. It will take several days (like three or four).

Keep checking for mould, and if the center puddles up too much (gets thicker, so it can't dry well) then spread some of the middle out toward the edges. When finished, this should be dry to the touch in all places, and should want to lift from the pan (on the wrap) in one flexible piece. The wrap should peel away from the fruit leather easily.

Cut into strips or squares or whatever you like. I find that a pair of kitchen shears does this very nicely. Will store well, wrapped in cling wrap and put into a container with a tight fitting lid.
Find this quick and easy recipe for kids with many others in the 42 Quick and Easy Recipes eCookBook.
Your Recently Viewed Recipes