San-J Asian Cooking Sauces Review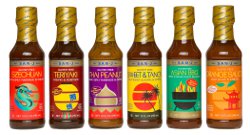 "The San-J Gluten Free Sweet & Tangy Polynesian Glazing and Dipping sauce was the perfect sweet and tangy option to shake up my stir fry routine. It had been a while since I had last made stir fry, and I was on a mission to convince my mother that shrimp is worthy enough to add to the dinner rotation after years of hearing about how much she despised seafood. I was hoping that the San-J Sweet & Tangy sauce would be able to help me out with this seemingly insurmountable task. I decided to keep the dinner simple: shrimp, frozen vegetables, San-J sauce, and white rice. I added the sauce just as the shrimp and vegetables finished cooking, and then poured it all over a generous helping of rice. I poured some extra San-J Sweet & Tangy sauce on top for good measure. I waited with baited breath as my mother sampled my finished product, and lo and behold, I managed to squeeze out an inquisitive eyebrow raise.
The San-J sauce was the key to the entire dish. It's sweet, tangy flavor turned a bland meal into a gourmet dish without any extra effort. There was a subtle hint of pineapple in the sauce that instantly made the dish feel like something I might order on tropical getaway to accompany my fruity coconut drink. The texture of the sauce was perfect--not too thick and not too runny. It didn't overpower the ingredients in the dish; it simply enhanced their tastier attributes.
The San-J Sweet & Tangy sauce would not only work great with any type of stir fry, but it'd work wonderfully as a marinade for a chicken or steak at your next barbecue. The fruity zest fits right in with all of your classic summer dishes. Plus, as an added bonus, it's gluten free so you never have to worry about accommodating the nutritional lifestyles of your friends and family. Plus, sauces are the ultimate way to add creativity to your routine recipes. Do you like to make homemade pizzas? Why not try using San-J for the sauce? You're only limited by your own creativity!
I finished my plate (and then another) and checked in with my mother on how she liked it. I waited until she swallowed her last bite for her answer of "It's not bad." In one night, I managed to change a few decades' worth of stubbornness toward seafood, thanks in large part to San-J Gluten Free Sweet & Tangy Polynesian Glazing and Dipping sauce. It's definitely something I'm going to be keeping handy!"

"I'm a huge fan of Asian cuisine; it's the number one thing I like to go out to eat. But at home, it was the one thing I'd not at all mastered when it came to cooking it myself. Sure I could throw together a quick stir-fry, but that's nothing compared to the amazing dishes available in the world of Asian cuisine. So when I discovered San-J's Asian Cooking Sauces I was simply ecstatic!
There are so many flavors to choose from, like Thai Peanut, Szechuan, Teriyaki, Sweet & Tangy, Asian BBQ and Orange Sauce; which left me a world of possibilities for making the delicious recipes I crave so much. I chose the Thai Peanut sauce first; it's really quite astounding how easy it was to use this sauce and to create a masterpiece of my very own Chicken Pad Thai at home. Practically all you need is this sauce to get that quintessential flavor of Pad Thai. San-J also has plenty of recipes to find on their site to help you become a master at cooking with their delicious sauces.
The Thai Peanut sauce was the perfect blend of peanut flavor, with that creamy texture and hint of a spicy kick. It's what I love about thai dishes (like Pad Thai) and this sauce brought it all together for me. With San-J cooking sauces I can think of a slew of ways to create new dishes and to enjoy that Asian cuisine I love so much at home. No more spending a fortune going out when you have these easy cooking sauces and recipes right at your fingertips."

"I used San-J Teriyaki Sauce to cook a variety of meals such as stir fry and fish and it was absolutely delicious. The sauce is thicker and richer than many teriyaki sauces, without being overly sweet. The sauce also wasn't as salty as some teriyaki sauces can be. It added the perfect touch to many of my home-cooked meals! I especially loved the sauce glazed over broiled salmon. I would recommend this sauce to anyone who loves cooking with Asian flavors, but wants to avoid unhealthy chemicals and additives. This sauce is healthy and tasty!"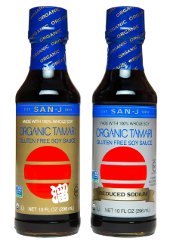 "For most of my life, I just thought soy sauce was what Chinese takeout restaurants used in their dishes instead of table salt. Considering how generic and bland most supermarket soy sauce varieties are, can you blame me? For those that know better, San-J wheat free tamari sauce is a true taste delight. Made without wheat typically found in soy sauce, this tamari as a result has a deep and rich umami flavor that resonates well in any dish. It works fantastically instead of soy sauce in a wide variety of Asian-style dishes, but I also enjoyed its supple flavor in some unusual ways like in scrambled eggs. San-J tamari sauce provides a flavor boost to dishes that typical soy sauce just cannot do."

Your Recently Viewed Recipes
Join our community of 5 million cooks!
Get free recipes, exclusive partner offers, and more.
Thank You for Signing Up!
There was an issue signing you up. Please check your email address, and try again.