Betty Lou's Fruit Bars Review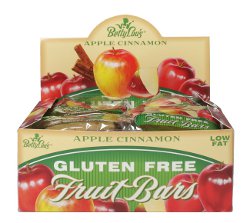 "After tasting the apple cinnamon variety of Betty Lou's Glute-Free Fruit Bars, I will say that I would have never thought this bar was gluten free based on its taste and texture. The dough was soft, thick and flaky, just what I would have wanted from such a pastry. The filling had the right amount of sweetness, but was far from being overpowering. If you're the type of person that enjoys snacking on toaster pastries, then reach for this treat instead."
"Do you ever find yourself looking for a tasty, hearty, filling snack that won't weigh you down with lots of empty calories, fat, and artificial garbage? Well, once you try Betty Lou's Gluten Free Apricot Fruit Bars, you'll have found exactly what you're looking for! Jam-packed with apricot filling, these satisfying little bars taste fantastic, tide you over easily from lunchtime until dinnertime, and are even healthy for you!
They are gluten-free, too, so if you have any kind of a gluten intolerance (Celiac or otherwise), you can still enjoy a wonderful fruit bar with great bite, super flavor, and just the right amount of sweetness."
"If you're looking for a tasty, healthy snack you can throw in your bag and take with you wherever you go, Betty Lou's Gluten Free Fruit Bars is a fantastic choice. They're super portable! You can easily fit them in a coat pocket to cure a case of munchies on-the-go. Available in a variety of flavors, these fruit bars are sensitive to your dietary restrictions and are 100% gluten free! How amazing is that!
The soft, yet dense, texture of the snack makes it ideal for a quick energy burst if you're out camping or hiking. The fruity filling packs a powerful punch as well - there's nothing bland about this fruit bar. For a healthy and filling option, try one of Betty Lou's Fruit Bars."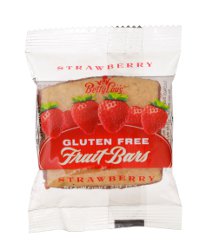 "I've found the absolute perfect snack thanks to Betty Lou's Gluten-Free Fruit Bars. These little fruit bars may be small but they are super filling and dense. All you taste is the true fruit flavor and delicious chewy texture. It's my new favorite thing to eat before heading to the gym. Whether you have a gluten intolerance or not, these bars are great for everyone. I actually find these more filling than any other fruit bar on the market.
Plus there are plenty of great flavors to choose from, like cherry, strawberry, blueberry, apple-cinnamon and apricot! Next time you need a pick me up in the middle of the day, I'd recommend reaching for Betty Lou's!"
Your Recently Viewed Recipes
Join our community of 5 million cooks!
Get free recipes, exclusive partner offers, and more.
Thank You for Signing Up!
There was an issue signing you up. Please check your email address, and try again.