Zojirushi Rice Cooker Review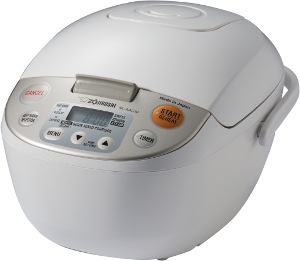 Zojirushi Micom NL-AAC10 Rice Cooker
Provided by Zojirushi
zojirushi.com
Reviewed by Jordan Sward
This isn't your average rice cooker. The Zojirushi Micom NL-AAC10 5.5 cup rice cooker is a cut above the rest for multiple reasons. Although the cooker includes advanced technology, it couldn't be easier to use. With multiple settings to fit any kind of rice and micro computerized technology, the Zojirushi machine makes it super simple to flawlessly cook rice.
I was excited to see the rice cooker had a special brown rice setting, along with settings for white/sushi rice, mixed rice, porridge, and sweet rice. The cooker also has a quick cooking setting if you're in a hurry. I tested the machine out with brown rice and was surprised at how easy it was. The cooker comes with a measuring cup, which matches fill lines on the inside of the cooking pan. I simply scooped the desired amount of dry rice with the measuring cup and filled the cooking pan with water to the correlating fill line. No measuring cup required! After simply choosing the brown rice setting and pressing the start button, the cooker set its own timer. Easy as that!
So how does the rice cooker work? It's equipped with a computer chip, so the rice cooker can "think" and adjust cooking length and temperature according to the thermal sensor's calculations. Unlike other conventional rice cookers, soaking and steaming time before and after cooking rice is automatically programmed. A rice cooker this smart makes life much easier. No more undercooked, chewy rice, and no more overly sticky rice that cooked for too long!
This rice cooker also comes with a steamer basket and a special steam setting so you can easily steam vegetables, along with a variety of other foods. The instruction manual includes recipes to cook potatoes, corn, chicken, fish, shrimp, frozen pot stickers, and more! It can also be used to cook rolled oats and steel cut oats. Who knew this little machine could do all that?
The rice cooker also comes with an automatic keep warm option, so if you get busy while your rice is cooking, it won't get cold. The non-stick rice spatula included makes it super easy to serve the rice once it's cooked - not even a single grain stuck to the spatula. Overall, this versatile machine is super easy to use, can be used to cook and steam a variety of foods, and will create perfectly cooked rice every time.
Enter to win a Zojirushi Micom NL-AAC10 Rice Cooker from 10/14/13 through 10/27/13.
Your Recently Viewed Recipes
Join our community of 5 million cooks!
Get free recipes, exclusive partner offers, and more.
Thank You for Signing Up!
There was an issue signing you up. Please check your email address, and try again.