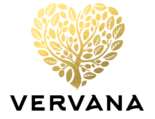 Vervana is redefining comfort food so you can indulge without guilt in high vibrational foods, and savor every bite knowing it's healthy and nutritious. Vervana founder and cardiologist, Dr. Stephen Sinatra, saw firsthand how adopting a healthy, anti-inflammatory diet improved overall health. Dr Sinatra preaches that "the single most important health decision we make each day is what we eat and drink."

Dr. Sinatra came to see extra virgin olive oil as the "secret sauce" of the Mediterranean Diet; that is, olive oil is one of the key components of that diet that makes it so healthy for the heart, brain and whole body. Dr. Sinatra believes that the "good" energy we feed ourselves – energy that's in sync with our nature and with Mother Nature – raises the natural vibration of our cells, which makes us healthier and more resilient.

Vervana's extra virgin olive oils are artisan-made on a family-owned and operated farm in California. They are USA-made from tree to bottle. Certified organic and also COOC (California Olive Oil Council)-certified. The EVOO bottle and spice jar are glass; olive wood spoon and bowl are carved from olive trees that no longer produce olives ~ https://vervana.com/blog/ . Award-winning – in 2019, the Black Label Olive Oil won a Gold Award and the New York International Olive Oil Competition.
Your Recently Viewed Recipes