The Homestyle Amish Kitchen Cookbook Review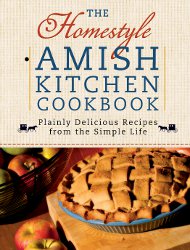 "This book is the real deal. I just loved home simple and rustic all of the recipes in this cookbook are. I was genuinely shocked by how easy all of the recipes were to make. The ingredients list is simple, and the instructions clearly tell you exactly what to do.
None of the recipes have pictures, but the instructions are so easy to understand that pictures of the final product are not needed. Plus, the book includes tons of helpful recipe feedback and Amish lifestyle trivia. If you have any interest in making hearty and simple down home fare, then this cookbook is for you."
"This delightful cooking guide & recipe book, The Homestyle Amish Kitchen Cookbook, shows off the beauty and simplicity of the Amish way of life in the kitchen. Loaded with budget-friendly, easy-to-follow and easy-to-make recipes, it really plays on the comfort classic angle. Mixed in among the classic recipes are wonderful tidbits about Amish culture and traditions, which only adds to the charm of the cookbook.
It doesn't matter if you are a novice at cooking, an expert, or just a lover of food, this cookbook captures everything that's great about Amish food - its nostlgia, its traditions and a taste that always brings you home."

"The classic recipes in The Homestyle Amish Kitchen Cookbook indulge nostalgia, savings, and cravings. Basic, inexpensive recipes are perfect for beginners, while more complex recipes will satisfy even the most daring culinarians who seek to draw upon the warm flavors of an Amish kitchen. Interspersed with traditional prayers, cultural practices, and fascinating facts about Amish beliefs and traditions, the collection's hearty, earthy dishes complement a homey atmosphere and a familial spirit.
General cooking tips and plenty of space for notes enhance hundreds of delightful recipes, which can be revisited or personalized again and again. Clear, simple instructions are accessible to the whole family. Recipes include traditional Amish dishes like Schnitz and Knepp, Fidget Pie, and Amish Friendship Bread, as well as homestyle essentials like Old-Fashioned Beef Hash, Crackletop Molasses Cookies, and Baked Acorn Squash.
The collection even includes full menus for large groups, including a Barn Raising Dinner for 250 Guests and a Wedding Meal Menu for 200 Guests. These simple recipes will be ready in no time, allowing plenty of time to apply the Amish tenets of patience and perseverance elsewhere in life, and wide variety of flavors provides irresistible options for every palate."
"Because the Amish lead busy lives, they need recipes that don't require a lot of preparation time. "The Homestyle Amish Kitchen Cookbook" by Georgia Varozza explains simple and easy-to-follow recipes that are the essence of Amish life. With recipes such as "Amish Breakfast Pizza" and "7-Up Salad", to more traditional "Honey Oatmeal Bread" and "Meat Loaf and Potatoes", this cookbook has new and unique recipes for you to try at home. Along with the recipes, Varozza also includes tips and tricks about Amish life and inspiring advice to help you become a better cook."
"The Homestyle Amish Kitchen Cookbook, by Georgia Varozza, offers basic and delicious recipes that are guaranteed to satisfy your appetite. The majority of the recipes featured in Varozza's book are easy to follow. But if you are looking for a challenge there are also several more complex recipes that will get the job done.
The Amish are known to be a hard working and simple people. So it is fitting that this cookbook supplies you with simple, hearty recipes that go hand-in-hand with the Amish lifestyle. It is impossible to look through this book and not be tempted by the dishes found there! I know that I can hardly wait to try the classic Chicken Potpie on page 149!"
To learn more about this cookbook and how you can win your own copy check out The Homestyle Amish Kitchen Giveaway. It's live until July 17th, so don't wait!

Your Recently Viewed Recipes
Join our community of 5 million cooks!
Get free recipes, exclusive partner offers, and more.
Thank You for Signing Up!
There was an issue signing you up. Please check your email address, and try again.