Simple, Fresh and Healthy Cookbook Review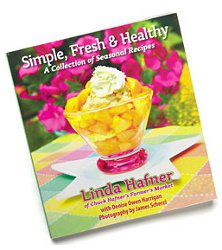 "I think this title really sums up what this cookbook is all about. All of the recipes in this cookbook are incredibly simple and easy for any home cook to prepare. The step-by-step instructions for the recipes make it so that even the most complicated-sounding recipe is easy to make.
This cookbook covers mostly basic recipes, perfect for new or inexperienced cooks. The pictures are beautiful and make each recipe that much more appealing. I love that the recipes show you how to use fresh produce during every season of the year. The ingredients used are all easy to find, making these fresh seasonal recipes that much more budget friendly. Plus, every recipe is healthy for you, and each one lists the nutritional information for those concerned about their diet stats. This cookbook is ideal for those that want incredibly simple and healthy recipes that anyone can make."
"Simple, Fresh & Healthy - A Collection of Seasonal Recipes from Linda Hafner is not only a delightful cookbook full of tasty recipes, it has some of the most gorgeous food photographs I've ever seen! Every photo in this cookbook is mouthwatering and makes me want to start cooking the recipes immediately. There isn't one recipe in here that I don't want to make! The recipes truly are easy, and the fact that they are designed to inspire healthful eating and encourage the use of locally grown food is a wonderful bonus.
Whether you're looking for a simple and refreshing Cool Cucumber Salad (check out page 57) or something hearty and comforting like the Oven Chicken and Potatoes on page 145, you'll be more than satisfied with Simple, Fresh & Healthy. Each recipe photo is a feast for the eyes, and the next one on my agenda is the Night-Shift French Toast Soufflé I saw on page 150.
Simple and fresh ingredients, the more local you can buy, the better. Even if you don't buy local, you're still going to love this new cookbook from Linda Hafner of Chuck Hafner's Farmer's Market. Get cooking!"


"Visually stunning, that's the first thing that comes to mind when I peruse the fantastic recipes in this Simple, Fresh & Healthy cookbook by Linda Hafner. The food photos in this cookbook just might convince even the wariest to fire up that oven and give it a try. It's all in a name they say and this cookbook gets right to the heart of it, simple indeed, fresh for sure and healthy as can be.
I love that they are pushing locally grown and farm fresh produce, there's really nothing quite like something picked right from your own garden. But either way, the recipes in this cookbook can be made with the freshest ingredients or from you local supermarket. They are easy, absolutely mouth-watering and very helpful for those watching their wallets. I think this cookbook is a must for any home cook out there."


"To say Linda Hafner is an authority on seasonal recipes is an understatement - she and her husband Chuck established a family farm stand in 1971 that grew into Chuck Hafner's Farmer's Market. Long before farmer's markets popped up in neighborhoods everywhere, Linda Hafner praised the health benefits of cooking with seasonal produce and locally grown food. In Simple, Fresh & Healthy, her farm-fresh philosophy remains the same: easy recipes for healthful eating. With vibrant, colorful photos, this cookbook lets the gorgeous food do the talking! From Maple Roasted Sweet Potatoes to Best-of-Show Gazpacho, fruits and vegetables are on display here in a lovely way. While it's not necessary to make the recipes with produce from your own garden (or even from a farmer's market), the photos really reinforce making food with the freshest ingredients possible.
The recipes are easy to follow and divided in four seasonal sections, perfect for when you've bought fresh spring asparagus and don't know what to do with it. (Try the Asparagus Frittata on page 5!) With Linda's basic approach to ingredients, preparation and instructions, Simple, Fresh & Healthy can be enjoyed by readers with not much cooking experience as well as readers who know their way around the kitchen. It's also interesting to read about Linda's long family history in produce and farming: her parents owned Sweetheart Market while her husband's family operated the Hafner Brothers farm, both in upstate New York. For readers interested in gardening, there's also some useful resources (and photos!) for starting your own. This cookbook is one to keep handy in your kitchen year-round!"

Find out how you can win a copy of this cookbook at our Simple, Fresh and Healthy Cookbook Giveaway page.

Your Recently Viewed Recipes
Join our community of 5 million cooks!
Get free recipes, exclusive partner offers, and more.
Thank You for Signing Up!
There was an issue signing you up. Please check your email address, and try again.