Homemade Matcha Noodles with Miso Bolognese and Shanghainese Sauce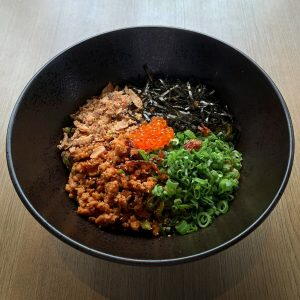 Homemade Matcha Noodles with Miso Bolognese and Shanghainese Sauce
"A dish that is imbued in a multitude of unique flavours – a treat for your taste buds! Being one of the most loved and sought-after dishes that are available in the menus of premier resort establishments the likes of PARKROYAL COLLECTION Pickering Singapore, this eclectic dish brings delight to your palate. Here is the recipe for this amazing dish for you could make it with ease from the comfort of your home.



MAIN DISHES
Homemade Matcha Noodles with Miso Bolognese and Shanghainese Sauce

Ingredients

Shanghainese Sauce

Oyster Sauce 50g
Light Soya Sauce 15g
Dark Soya Sauce 40g
Water 25g
White Pepper Powder 1 pinch
Sugar 3.75g

Matcha Noodles

Flour 400g
Oil 50g
Water 150g
Salt 5g
Egg 1
Matcha Powder 20g

Miso Bolognese

Minced Chicken 400g
Chopped Shallots 50g
Chopped Garlic 50g
Sake Wine 20g (optional)
Oyster Sauce 50g
Light Soya Sauce 10g
Dark Soya Sauce 15g
White Pepper Powder 1 pinch
Sugar (to taste)
Miso Paste 15g
Sesame Oil (to taste)

Garnish (optional)

Chopped Spring Onions
Shredded Seaweed
Salmon Roe
Fried Shallots
Togarashi (Japanese spice blend)

Method of Preparation

Prepare the Shanghainese Sauce by mixing all the ingredients in one bowl. Mix well before setting aside.
Start on the matcha noodles by adding all the ingredients to a large mixing bowl and kneading it until it becomes a dough. You can also use an electric mixer with a hook/paddle attachment if you have one to help with this step.
Roll the dough out on a flat surface until it is flat and approximately 1mm in thickness.
Fold the sheet of dough by segments, applying sufficient flour to each layer to prevent them from sticking.
Slice the folded sheet across the segment into noodle strips, based on your preferred thickness.
To prepare the Miso Bolognese Sauce, preheat your pan with some oil. Once the pan is hot, add in and sauté the chopped shallots and garlic until it is fragrant.
Add the minced chicken and stir-fry until it is lightly seared and no longer pink.
Mix in the light soya sauce, dark soya sauce, oyster sauce, white pepper powder, sugar, miso paste and sake (for an enhanced taste).
Reduce to low heat and let the sauce simmer until it thickens slightly before gradually stirring in the sesame oil.
You can now turn off the flame, mix the sauce well and set it aside.
Bring a pot of water to a boil and add the sliced noodle strips in. Cook until your desired texture is achieved and strain excess water. The noodles will start to float once it is cooked.
Add the Shanghainese sauce to the cooked matcha noodles and mix well.
Finally, plate the dish in a bowl starting with the noodles.
Spoon your desired amount of Miso Bolognese onto the noodles and add the garnishes according to your own taste."
Your Recently Viewed Recipes
Join our community of 5 million cooks!
Get free recipes, exclusive partner offers, and more.
Thank You for Signing Up!
There was an issue signing you up. Please check your email address, and try again.