Jungle Juice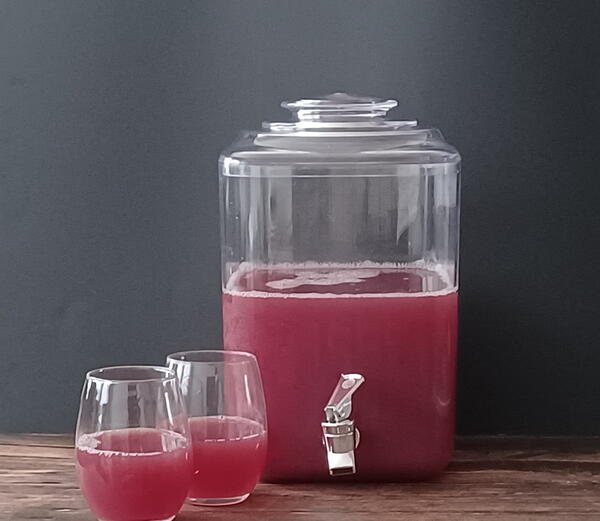 Jungle Juice
Let's face it. When you're hosting a big party, you may not want to spend time mixing a drink for each guest. What's a busy host or hostess to do? Serve this Jungle Juice recipe, of course! This alcoholic drink recipe is super easy to make (it only has four steps!) and can be mixed up in no time. All you need to do is serve the Jungle Juice in an elegant punch bowl that is complete with pretty slices of fresh fruit on top, and you're ready for the party. Jungle Juice can be served year-round, but it is especially refreshing in summer. If you've always wanted to learn how to make Jungle Juice, then this recipe makes it easy to put it all together. 
Ingredients
1 beverage dispenser or punch bowl
1.75 liter vodka
1 (64-ounce) bottle of cranberry juice
1 (64-ounce) bottle of pineapple juice
1 (64-ounce) bottle of fruit punch
16 ounces Sprite or other lemon lime soft drink (optional)
Frozen fruit (optional)
Instructions
Add the frozen fruit to the bottom of beverage dispenser or punch bowl-- I used pineapple slices! The frozen fruit will help to keep your jungle juice cool without watering it down.

Mix the vodka and juices into the bowl.

Optional - Top off with Sprite for an extra fizz
More Facts About Jungle Juice
Jungle juice is one of those drink recipes that you probably hear about long before you actually try it. Its party reputation precedes it, and many people have questions about the drink. You already know how to make jungle juice, so let's cover a few more common things people wonder.

How much alcohol is in jungle juice?

The recipe above is about 1 part vodka to 3 parts juice, which is a pretty standard ratio for a mixed drink. You'll find many cocktails with way more alcohol in them, and you'll find drinks that are even lighter.

However, other jungle juice recipes may have more alcohol in them. So, ask for the recipe if you're not sure how strong the drink will be.

Also keep in mind the proof, or percent alcohol, of the alcohol being used. Vodka, like most other popular liquors, is typically 80 proof or 40% alcohol. However, some jungle juice recipes call for Everclear, which can be between 120 and 190 proof (up to 95% alcohol). Those cocktails will obviously be much more alcoholic.

How do You Keep Jungle Juice Cold?

In addition to the frozen fruit idea in the recipe, we have one more fun solution to share. Fill empty vodka bottles about 3/4 of the way with water and freeze for 2 hours. Then float the frozen bottles in the punch bowl to keep your jungle juice cold all evening long!

What is Jungle Juice Made of?

Jungle juice doesn't have to have a specific recipe. In fact, it often refers to an improvised mix of alcohol and juice. This makes it a popular party punch because it's easy to make, and it can often be made for not a lot of money. Everclear, vodka, or rum are popular liquor choices. Juice, Hawaiian Punch, and lemonade are popular mixing choices. However, be careful with too much improvisation! Not only can you accidentally make something that tastes bad, it can also be hard to keep track of the alcohol content of your improvised recipe. When in doubt, we definitely recommend the recipe above.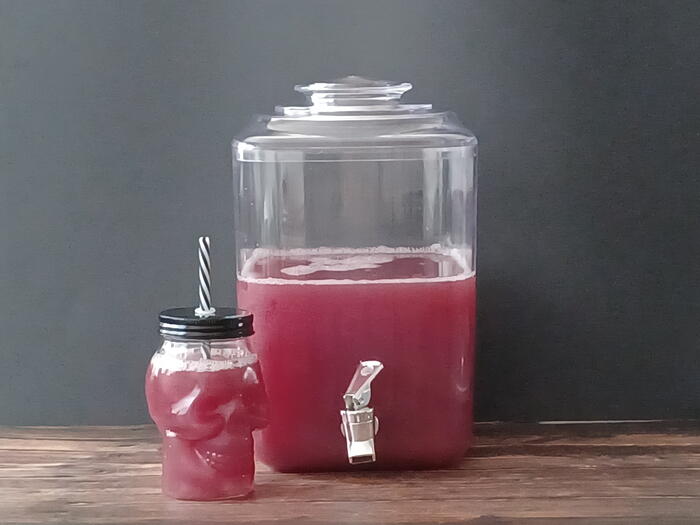 Your Recently Viewed Recipes
Join our community of 5 million cooks!
Get free recipes, exclusive partner offers, and more.
Thank You for Signing Up!
There was an issue signing you up. Please check your email address, and try again.