Easy Fried Apple Pies
Remember fried apple pies from McDonald's? We're bringing them back.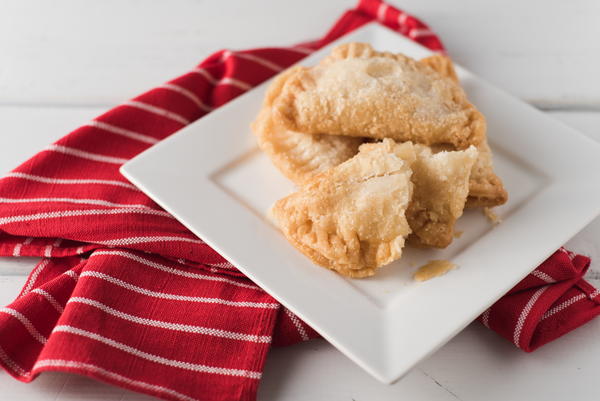 Easy Fried Apple Pies
These easy fried apple pies are almost too simple to make... you'll want to cook them all the time once you find out how easy they are! These fried apple pies are made with premade pie crust, for a dessert recipe that you don't have to stress about. Hot and gooey apple pie filling sit inside of refrigerated pie crust and the outside is dusting with sugar for extra sweetness.

This is literally the easiest apple hand pie recipe you're likely to come across. It will even remind you of the fried apple pies McDonald's used to make! Thank goodness you don't have to miss out on that delicious dessert. All you have to do is make a fantastic version at home, sit back, and enjoy!
Serves8 hand pies
Ingredients
1 cup prepared apple pie filling
1 package (2 rounds) refrigerated pie crust
oil for frying
sugar for sprinkling
Instructions
Carefully roll out pie dough.  Cut 4 circles from each round.

On half of each circle, top with 2 tablespoons of pie filling.  Fold other half over and crimp well to seal.  Repeat with all dough circles.

Heat oil in a deep pan to 350 degrees F.

Carefully fry each pie for 3-4 minutes, or until lightly golden brown. Remove from the oil and drain on paper towels.  Sprinkle generously with sugar while hot. Allow to cool for at least 10 minutes before eating

NOTE: Contents will be hot!
Your Recently Viewed Recipes