Easy Strawberry Shortcake
The whole family will want to dig into this easy shortcake recipe.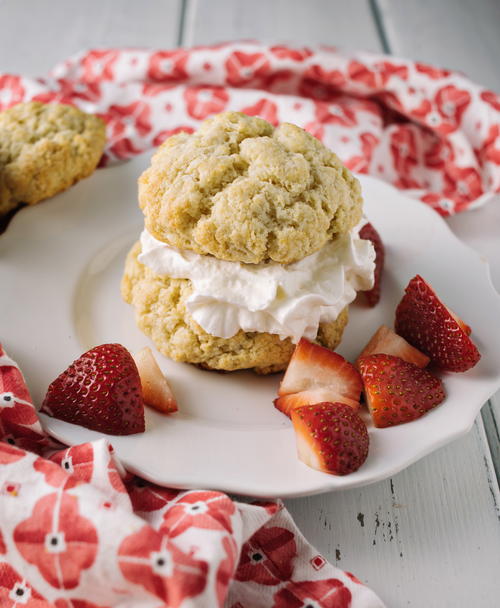 Easy Strawberry Shortcake
This easy strawberry shortcake recipe is a vintage classic that we just keep coming back to. Made from scratch, this shortcake is light and fluffy, yet still simple enough for anyone to make. All you have to do is combine the ingredients and then drop the cakes on a baking sheet and let them cook. How easy is that? Grandma knew how to make a dessert that tastes amazing, but isn't too much work. Now you too can make this easy strawberry shortcake recipe from scratch, all without breaking a sweat. Once the cakes are finished cooking, just top with cream and strawberries, and you're all set! Dig in!

From the Chef: "The refrigerator era of cooking offered the opportunity for home cooks to make recipes that they'd normally only get at restaurants, like strawberry shortcake. Dairy products were more readily used now that they could be properly stored."
- Addie Gundry

This recipe is from RecipeLion's 103 Cookbook series, Retro Recipes from the '50s and '60s: 103 Vintage Appetizers, Dinners, and Drinks Everyone Will Love.
Serves6
Ingredients
1

1

/

2

cup all-purpose flour
2

1

/

2

teaspoons baking powder

1

/

2

teaspoon baking soda
2 tablespoons granulated sugar

1

/

2

teaspoon kosher salt
Zest of 1 lemon

1

/

2

cup (1 stick) cold unsalted butter

1

/

2

cup buttermilk
2 tablespoons coarse sugar
1 (15-ounce) container refrigerated whipped cream
3 cups fresh sliced strawberries
Instructions:
Preheat the oven to 425°F. Line a baking sheet with parchment paper.

Combine the flour, baking powder, baking soda, granulated sugar, salt, and lemon zest in a small bowl (or food processor).

Add the butter and cut it in with a fork or pastry cutter or pulse a few times with a food processor until you have coarse crumbs. Stir in the buttermilk.

Drop the dough onto the baking sheet. Sprinkle with coarse sugar and lemon zest. Bake for 15 minutes or until lightly browned.

Cut the biscuits in half and spoon some of the whipped cream in between each half. Serve with fresh strawberries.
Your Recently Viewed Recipes