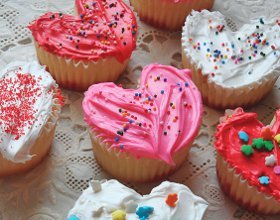 Nothing says "I love you" on Valentine's day like our cute "Be Mine" Cupcakes. Heart shaped to show your special someone how you really feel, they bring the spirit and love of Valentine's day that we all cherish. A wonderful cupcake recipe, each bite will fill you with joy. Share this special day and treat the ones you love with a decadent cupcake that says it all.
Ingredients
2

1

/

4

cups cake flour
1 tablespoon baking powder

1

/

2

teaspoon salt
1

1

/

4

cup buttermilk
4 large egg whites
1

1

/

2

cup sugar
2 teaspoons grated lemon zest
1 stick unsalted butter, softened
White frosting (store bought or homemade) Red and pink paste/gel food coloring
Sprinkles, non-pareils, colored sugar, etc
Instructions
Preheat oven to 350 degrees F (175 degrees C).

Line muffin pan with paper cupcake liners.

Whisk together cake flour, baking powder and salt.

In a separate bowl, whisk together egg whites and buttermilk.

Place the sugar in your mixer bowl and add the lemon zest.

Rub the zest into the sugar with your fingers until moist and fragrant.

Add the butter to the sugar mixture and beat at medium speed for 3 minutes, until very light.

With mixer on low, add one third of the flour mixture, then add half of the buttermilk mixture.

Add half of the remaining dry ingredients, then the rest of the buttermilk mixture, and finally the remaining dry ingredients.

Scrape down the bowl then beat on medium-high for 2 minutes to ensure it is thoroughly mixed and well aerated. Spoon batter into prepared muffin cups, filling them about 2/3 full.

Place a round marble in between the cupcake liner and the pan. This will create an indent into the cupcake liner, causing the cake to bake into a heart shape.

Bake in the preheated oven until cupcakes are very lightly browned and a toothpick inserted into the center of a cupcake comes out clean, 20 to 25 minutes.

Cool cupcakes in the pans for 5 minutes; transfer cupcakes to cooling rack to finish cooling. Be careful, the marbles will be hot! Separate the frosting into three bowls.

Keep one white and tint the other two using the pink and red gel food coloring. Frost the cupcakes, accentuating the heart shapes by spreading the frosting over the lip of the liner for the heart bumps, and down into a point for the bottom of the heart.

Decorate with sprinkles, sugar, nonpareils etc.
Your Recently Viewed Recipes