Grandma Cindy's Snowball Cookies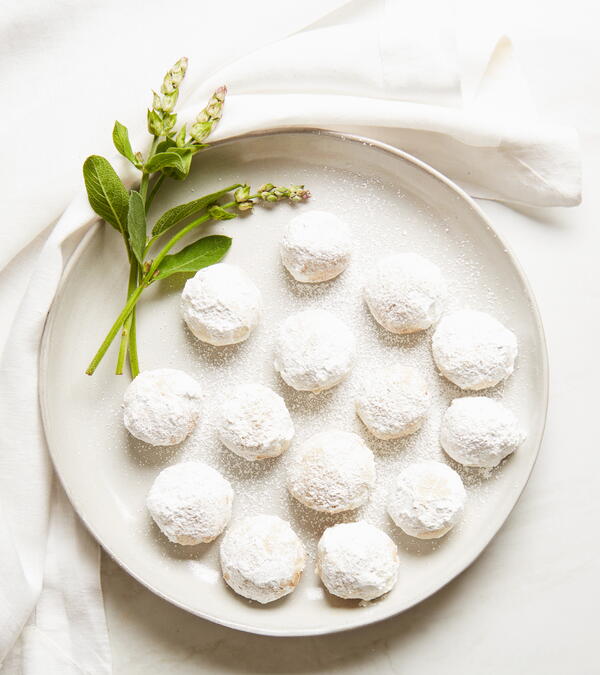 Grandma Cindys Snowball Cookies
You've been tracing the common thread of my mom throughout this cookbook, right? Here's another Grandma Cindy special. I've been eating these cookies for as long as I can remember. I loved them growing up, and now my sons love them as well. Like the indulgent grandma she is, we don't need to ask her to make them—she just magically appears with a fresh batch! Odds are that my youngest son has a snack bag full of these cookies tucked away somewhere in his bedroom; he likes to have a few within arm's reach should the craving strike. I get it: These cookies are so addictive, I'm pretty sure I could eat an entire tray in one sitting. (Not to brag, but it's possible I have already achieved that goal. . . .)
 
Makes3 dozen cookies
Dietary RestrictionsDairy Free, Egg Free, Vegetarian
Ingredients
1 cup (227 g) butter or margarine, softened

3

/

4

cup (90 g) confectioners' sugar, divided
1 teaspoon vanilla extract
1

1

/

2

cup (188 g) all-purpose flour

3

/

4

cup (82 g) finely chopped pecans
Directions
Preheat the oven to 325°F (163°C). Line a baking sheet with parchment paper.

In a large mixing bowl, add the butter, ½ cup (60 g) of the confectioners' sugar and the vanilla.

With a hand mixer on low speed, blend together for about 2 minutes. Then add in the flour and pecans, and blend on low for another 2 or 3 minutes until everything is well combined.

Shape the dough into 1-inch (2.5-cm) balls, and place them on the prepared baking sheet.

Bake uncovered for 15 minutes. Let the cookies cool completely.

Add the remaining ¼ cup (30 g) of confectioners' sugar to a zip-top bag. Place the cookie balls, about 5 at a time, carefully into the zip-top bag, and gently shake until they are completely coated in the confectioners' sugar.
TIPS:
Make sure to let these cookies cool completely before covering them in confectioners' sugar or the sugar will melt.

If you are making this recipe dairy free, use margarine.
Your Recently Viewed Recipes