How To: 20 Christmas Gifts to Make and Christmas Dessert Recipes eCookbook
"How To: 20 Christmas Gifts to Make and Christmas Dessert Recipes" eCookbook
'Tis the season to get in the holiday spirit! Nothing says Christmas quite like handmade gifts and delicious cookie recipes. Just think of the first time you put out a plate of cookies and a glass of milk for jolly old St. Nick. Remember how excited you were to make a homemade cookie that you knew Santa would enjoy? From the moment you made the dough and prepped the oven, to the warm and comforting smell of freshly baked cookies, each and every step in the cookie making process has a special place in your heart and in your memories. Experience this magical feeling again and capture the joy of baking this holiday season by making some of the best cookie recipes that are guaranteed to spread cheer. Share these wonderful cookie recipes with friends and family and give them a gift that you know they'll love - cookies.

Cookie recipes are great year round, but it is during the Christmas season that we truly love to bring out our baking aprons and cute cookie cutters. There are holiday classics, like gingerbread cookies and peppermint bark, but this holiday season change it up with some new festive cookies that can be found in our How To: 20 Christmas Gifts to Make and Christmas Dessert Recipes free eCookbook. You'll not only find decadent cookie recipes that will help you celebrate a blessed Christmas, but also homemade gift ideas to give away with your cookies. Make an impression this year and give the gift of comfort through homemade cookies and crafts. A single cookie can make anyone's day a little bit brighter, and a little bit sweeter.

The holiday season can be a stressful time for people. From buying gifts to planning a holiday dinner, there seems to be no time to get all of your Christmas plans done. This season skip the step of buying your friends and family gifts and give them the gift of cookies and homemade crafts. Exercise your creative muscles and your baking skills and give them a gift that is budget friendly and delicious. Gather up the family and clear you kitchen counters – each of these recipes and crafts can be a fun holiday activity for the whole family. Don't let Santa down this year with the same old cookie recipe. Surprise him with something new that will get you on the "nice" list.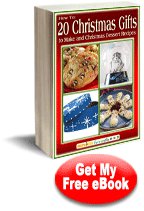 Download your free copy of How To: 20 Christmas Gifts To Make and Christmas Cookie Recipes



Christmas Cookie Recipes
Turn on Christmas music and start baking some delicious cookie recipes for the season. Christmas cookies display the joy and the cheer of the holiday season by spreading love and kindness with every bite. Make a batch of any of these Christmas cookies and give them to a friend as a home made Christmas gift. Everyone loves getting something a little sweet. From chocolate cookies to festive peppermint cookies, there is a little of everything in this eCookbook. So, take out your Christmas apron and get ready to bake a batch of joy. Christmas cookie recipes should match the cheer of the holiday season and these recipes do not disappoint. Spread the love of the holiday season and share these sweets.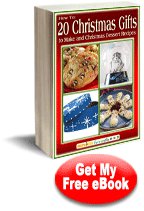 Download your free copy of How To: 20 Christmas Gifts To Make and Christmas Cookie Recipes
Quick and Easy Christmas Gifts to Make
Just because you're short on time doesn't mean you can't make your own inexpensive Christmas gifts. Set aside an afternoon or a quiet evening and make a few simple Christmas crafts that you can store for a later date. Best of all, you don't need a lot of money and supplies to make any of these projects. If you don't have a lot of time, consider making a decoupage product. In this eBook, you'll find ways to decorate a frame and plate using decoupage. You can easily customize the piece for the gift recipient and use papers or photos you already have on hand. Other homemade Christmas gift ideas for busy crafters include a snow globe, candy dish and even bath bombs. All of these gifts can be customized to create a great gift that's sure to leave a lasting impression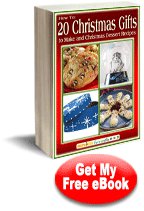 Download your free copy of How To: 20 Christmas Gifts To Make and Christmas Cookie Recipes
Homemade Christmas Gift Ideas
If you have a little more time on your hands or just want to make something a little more intricate, consider a project you can crochet, knit or make with beads. Homemade Christmas gifts are always the best option, but when you put in extra time and thought, it truly shows. Your gift will last well past the holiday season and will make an impression every time it's used. This season, consider making Christmas-themed jewelry or decorations. However, you can think outside the holidays for some inspiration. Some Christmas gifts to make can scarves and socks for that can be worn in January or even April. Versatility is the key when it comes to creating memorable gifts and these projects can last well past the holiday season and into the new year. Even holiday-themed jewelry can be worn later on in the year - it's just too pretty to leave in a drawer for nine months out of the year.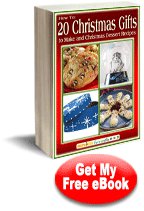 Download your free copy of How To: 20 Christmas Gifts To Make and Christmas Cookie Recipes
Consider the importance of handmade gifts and delicious treats this Christmas season. Though it's tempting to head to a store and buy something thoughtlessly, handmade items make a much greater impression. If you want to learn how to make Christmas gifts or delicious cookies for the holiday season, look no further than How To: 20 Christmas Gifts To Make and Christmas Cookie Recipes. This eCookbook is filled with quick and easy Christmas gifts to make, patterns for seasonal projects and recipes for delicious holiday treats that everyone will enjoy. Each of these projects offers a unique and unexpected take on a traditional project or seasonal idea.


This year, rest assured that you won't give the same gift as anyone else or bake the same cookies as another Christmas party-goer. Give your friends and family something that comes from the heart that you know they are going to love. You can never get someone "the wrong thing," when you are giving them a batch of homemade cookies. Cookies are always pleasing and a gift you know everyone, including yourself, is going to love. So, bond with the family and make a batch of homemade cookies together this holiday season. Don't miss out on How To: 20 Christmas Gifts To Make and Christmas Cookie Recipes and start baking. You never know, this could be a brand new holiday tradition. Enjoy!


And as a friendly reminder, with your free copy of the "How To: 20 Christmas Gifts To Make and Christmas Cookie Recipes" (as with all of our downloadable eCookbooks) you can also subscribe to our free Quick and Easy Recipes newsletter to get free recipes delivered to your inbox every week. Become a part of the RecipeLion community, by subscribing you will receive:

Six weekly emails with free recipes, tips, collection pages, videos and more + a weekly wrap-up.
Chances to win cookbooks and food products from our weekly giveaways and contests.
New recipes and eCookbooks made available to you throughout the year.
Access to our recipe large collection full of over 40,000 recipes, including budget friendly and quick and easy recipes.
The opportunity to share ideas and help others in the recipe and cooking community.
Your Recently Viewed Recipes
Join our community of 5 million cooks!
Get free recipes, exclusive partner offers, and more.
Thank You for Signing Up!
There was an issue signing you up. Please check your email address, and try again.