Stevia Strawberry Swirl Cheesecake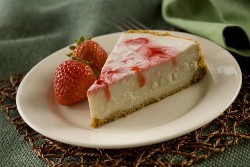 Wow! Finally, a recipe for a delicious calorie-saving Strawberry Cheesecake, perfect for those who want to indulge sans the guilt. This cheesecake saves you 60 calories and 12 grams of carbohydrate per serving.
Ingredients
1 cup graham cracker crumbs

1

/

4

teaspoon ground cinnamon
3 packets Stevia Extract In The Raw
2 tablespoons unsalted butter (or soy margarine), melted
1 envelope unflavored gelatin

1

/

2

cup heavy whipping cream
1 16-ounce package silken soft tofu, well drained
1 cup partially skimmed milk ricotta cheese

1

/

2

cup fat-free half and half
16 packets Stevia Extract In The Raw, divided
4 large strawberries
1 teaspoon vanilla extract
Instructions
Crust
Preheat oven to 350F degrees.

Spray 9-inch spring form pan with non-stick cooking spray. Place 9-inch cardboard cake liner in bottom of pan and cover with parchment paper.

In small bowl combine graham cracker crumbs, cinnamon, the 3 packets Stevia Extract In The Raw, and the melted butter or soy margarine; blend well.

Turn mixture into spring form pan and using the back of fingers, press crumb mixture firmly together to form crust. Bake at 350° F for 10 minutes. Remove and set aside to cool.

Filling
Heat whipping cream to boiling. Remove from heat and stir in gelatin powder.

Let stand about 5 minutes or until gelatin is dissolved.

In large bowl, using electric mixer or a food processor, blend tofu until smooth. Add ricotta, half and half, gelatin mixture, 14 packets of Stevia Extract In The Raw and vanilla. Blend well.

Pour mixture into cooled graham cracker crust. Set aside.

Using blender or food processor, blend the strawberries until liquefied.

Strain the strawberry liquid and stir in remaining two packets of Stevia Extract In The Raw.

Slowly add strawberry coulis to cheesecake mixture and with the tip of a knife or toothpick carefully swirl coulis into cheesecake. Chill 2-3 hours or until set.
Your Recently Viewed Recipes