4 Easy Carrot Cake Recipes
Searching for a tried and true carrot cake recipe? We're giving you 4 + great tips for baking!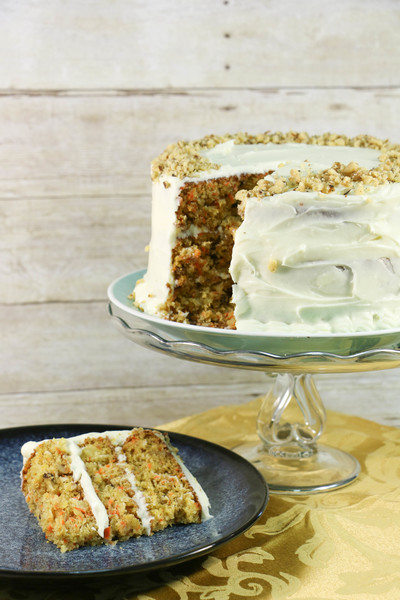 Carrot cake is one of those classic desserts that is bound to be requested at holidays and other gatherings, so we figured we better try our hand at making one in case we're ever asked to bring one to an Easter brunch or something of the like. (Let's be honest, dropping the dessert ball isn't going to go over well no matter who you are).

Luckily, our test kitchen was the birthplace of this super delicious carrot cake recipe made completely from scratch! We should mention, it's also super moist, which we think is probably the best part about carrot cake (except maybe the cream cheese frosting). If you've been hunting for just the right homemade cake recipe, this triple layer carrot cake might be your new favorite! Don't worry, if you can't resist the creamy frosting, crunchy walnuts, sweet raisins, and layer upon layer of ultra-moist cake. Neither could we.

>> Jump straight to our blogger favorite carrot cake recipes!
NotesHomemade Triple Layer Carrot Cake
Serves16
Ingredients
For the Cake
3 cups all-purpose flour
2 teaspoons baking powder
2 teaspoons baking soda
2 teaspoons cinnamon
1 teaspoon salt
2 cups sugar
1 cup vegetable oil
4 eggs
2 teaspoons vanilla
1 (20-ounce) can crushed pineapple, undrained
1 cup plus 2 tablespoons crushed, drained pineapple
4 cups loosely packed shredded carrots (about 6 carrots)
1 cup shredded coconut (or raisins, or both)
1 cup chopped nuts (we used walnuts)

3

/

4

cup soft butter (1 1/2 sticks)
For the Frosting
2 (8-ounce) packages cream cheese at room temperature
2 tablespoons milk
2 teaspoons vanilla
4 cups sifted powdered sugar

1

/

2

cup chopped nuts (for garnish)
We love carrot cake! Try this indulgent version that's combined with one of our other favorite desserts: cheesecake.Carrot Cake Cheesecake
Baking Instructions
Preheat oven to 350 degrees F and grease three 9-inch cake pans. 

Cut circles from parchment or waxed paper to fit the pans, lay them in the bottom and grease them.

Measure flour, baking powder, baking soda, cinnamon and salt into a large bowl and fluff with a fork to mix.

Combine sugar, oil, eggs and vanilla in a large bowl and mix with an electric mixer on low until creamy, about 2 minutes

Add the dry ingredients gradually with mixer on low, scraping down the bowl and mixing until all dry ingredients are mixed in.

Add the pineapple and carrots and mix on medium-low for 1 minute.  Stir in the coconut and nuts by hand.

Pour batter into the prepared pans and bake for 30-35 minutes. (Top of cake should spring back and not leave fingerprints when cake is done, or insert a toothpick in the center.  The toothpick should come out clean with no wet crumbs.)

Remove cake layers from pans and place upside down a cooling rack for 10 minutes. Carefully peel off the paper liner from the bottom when cool enough.
To Prepare the Frosting
In an electric mixer, beat cream cheese, butter, milk and vanilla on medium-high until mixed and fluffy, for 2 minutes. 

Scrape down the bowl with a rubber scraper.

Add the powdered sugar gradually and continue to beat until frosting is mixed, adding a bit more milk if necessary to reach a spreadable consistency. 
[Video: How to Make Buttercream Frosting and Frost a Cake]
3 Delicious Carrot Cake Recipes from Bloggers We Love
Below you'll find three bloggers' spins on the traditional carrot cake recipe. Each of them has included a little bit of info about the cake and one even offers her tips for making the cake as moist and fluffy as humanly possible (finally!). Check out these phenomenal carrot cake recipes below and let us know which one is your favorite in the comments below!
"This Carrot Cake Cheesecake came about somewhat by accident. I initially intended to create a layered carrot cake cheesecake with (you guessed it) layers of cheesecake and layers of carrot cake.  But then, I decided to mix 'em together, and wow, I am glad I tried that one! Not only does it look really fun, but it solves the whole water bath part of baking a cheesecake. 

I've never had this cheesecake break on me, and I think it's because of the carrot cake portion. And you know, even if it did break, there's cream cheese frosting on top to hide it. After all, carrot cake is half of this recipe and any good carrot cake needs a good cream cheese frosting, right? I hope you guys enjoy this one as much as we do. It's an Easter staple around our house!"

- David Dial, The Spiced Blog

"This moist Carrot Spice Cake is the perfect Easter dessert. Filled with classic carrot cake flavor and topped with a tangy and sweet cream cheese frosting, this cake is rich, decadent, and absolutely delicious!"

- Michelle, A Latte Food
Cake Baking Tips from Sally McKenney (of Sally's Baking Addiction)
When it comes to baking and blogging, Sally McKenney knows her way around the kitchen. This self-taught baker turned an addiction into a career -- and a successful one at that! Seriously, if you haven't visited her blog, drop what you're doing (after you read these fabulous tips of course...) and go check it out! Be forewarned, involuntary drooling may occur.  

One of the things we can't stand more than anything is biting into a dry cake, and being the avid baker she is, we thought Sally would agree. So, we sought out some of her tips for keeping a carrot cake, in particular, moist throughout the baking process. If anyone should have the insight, we figured a baking addict would. Here's what Sally had to offer:
So... What's the secret to achieving a moist cake every time?

"There are four main ingredients in cake recipes: sugar, flour, eggs, and fat (in the form of oil, shortening, or butter). These four ingredients have different purposes and effects on how your cake will bake, its texture, and how it will taste."

#science: "The structure of your cake is held together with the eggs and flour. The flavor of your cake comes from the sugar and the fat. The more sugar and fat you have in your cake, the more moist the cake will be."

#protip: "Do not assume that simply adding more sugar and fat to your batter will produce a moist cake. You have to maintain an equal amount of structure to hold up to the extra moisture you add in. Add in too much moisture with too little structure and you'll end up with a cake that won't set."

What about sugar? White or brown? Dark or light?

"...in my cookie baking experiences, I have learned that brown sugar yields a much softer and more moist product than white sugar does. It provides the baked goods with more body of flavor as well."

Butter or oil for moisture? And what's the deal with yogurt?

"I have learned that oil produces a much softer, more moist cake crumb than butter would."

#somanyflavors: Sally likes the taste of butter much better, but since there are so many other competing flavors in her carrot cake recipe, she notes that butter won't be missed in this instance.

"Yogurt is a fantastic addition to cakes or cupcakes because it adds even MORE moisture to your finished baked product."

The carrots in a carrot cake provide moisture in the baking process. Truth or Myth? 

#truth: "[Even] finely shredded carrots soften inside the batter as the cake bakes, making the cake even more soft and moist."  

One last thing... (then go bake that cake!)

"Carrot cake, like banana bread, tastes best the next day after the flavors have settled and have gotten friendly with one another. It is also more moist on the 2nd day as well."
With all this talk of carrot cake, you may be in the midst of preparing for Easter brunch. If so, try our collection:18 Easter Brunch Menu Ideas
Your Recently Viewed Recipes
Join our community of 5 million cooks!
Get free recipes, exclusive partner offers, and more.
Thank You for Signing Up!
There was an issue signing you up. Please check your email address, and try again.