Cardamom + Pink Pepper Brownies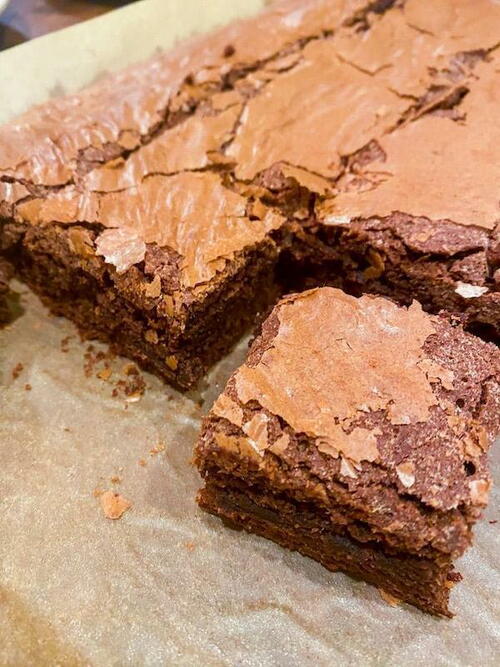 Cardamom Pink Pepper Brownies
Ingredients
For the spice blend
1 teaspoon green cardamom pods
1

1

/

2

teaspoon pink peppercorns
1 teaspoon Urfa chile flakes

3

/

4

teaspoon ground cinnamon, preferably Vietnamese

For the brownies:
1 cup salted butter, cut into tablespoons
1 cup semisweet chocolate chips
1

3

/

4

cup all-purpose flour

2

/

3

cup SKORDO Dark Dutch Cocoa Powder

1

/

2

teaspoon kosher salt
6 large eggs
2

1

/

2

cups sugar
Directions:
Finely grind the cardamom and pink pepper together and immediately mix with the Urfa and ground cinnamon.

Preheat the oven to 375 degrees F. Line the bottom and all four sides of a 9x13-inch baking pan with parchment paper. If the paper won't stay down you can wet the pan a little before pressing in the paper.

Combine the butter and chocolate chips in a large microwave-safe bowl. Microwave for 1 minute and stir until smooth. If the chocolate and butter don't melt completely, microwave for another 15 seconds and stir. Repeat, heating in 15 second intervals, until smooth. Let stand to cool slightly.

Sift the flour, cocoa powder, and salt into a medium bowl and whisk in the spice blend. Whisk the eggs in a large bowl until foamy. While whisking the eggs, add the sugar in a steady stream and whisk until the sugar dissolves. Add the butter-chocolate mixture and stir rapidly with a silicone spatula until fully incorporated. Add the dry ingredients and fold gently with the spatula until no traces of flour remain.

Scrape the batter into the prepared pan, spread it in an even layer, and bake until a toothpick inserted 1 inch from the edge comes out clean, 25-30 minutes. Cool completely in the pan on a wire rack.

To serve, lift the brownies out of the pan using the parchment paper and cut into 2-inch squares. 
Your Recently Viewed Recipes